Discover more from Go Outside
Go Outside is a newsletter that lives up to its name; it's all about going outside.
Over 2,000 subscribers
The Natural Bridge in Yoho National Park is Worth Your Time
Don't drive by this natural wonder dozens of times without stopping like we did!
We've both been cross-country and downhill skiing a lot this month, which means a lot of time spent in the car driving to the mountains.
Pre-children, it was easy to do these drives in one go, but now that Cailynn has an almost-two-year-old and Annalise has a one-year-old, stops on car rides are more common.
We recently spent a weekend skiing together with our families in Golden and Annalise stopped at the Natural Bridge, near Field, B.C., en route so her little one could stretch his legs. This is a spot we've both driven past countless times and never pulled the car over.
Well dear reader, don't make the same mistake as us. The natural bridge is super cool, fairly accessible, and we highly recommend checking it out next time you're near Field, B.C.
The Natural Bridge, is, as you may have gathered from its name, a natural rock formation. The bridge goes over the Kicking Horse River and winter is the perfect time to visit because frozen water means you can get under the bridge. (This is obviously not possible in the warmer months.)
The Natural Bridge is located just 3 kilometres from the town of Field on the Emerald Lake Road. There's a sign pointing to it on the Trans Canada Highway and a large parking lot, making it easy to find.
The parking lot contains bathrooms, another bonus. From the parking lot, you cross the manmade bridge pictured below, which itself offers views of the mountains, the Natural Bridge, and Kicking Horse River. (This part is paved and wheelchair or stroller accessible. The path to the Natural Bridge is definitely not.)
The view from the manmade bridge looking in the opposite direction of the Natural Bridge is pictured below.
At the end of the manmade bridge, you can turn right, walk slightly downhill and then walk back along the shoreline, underneath the manmade bridge, and you'll land literally in the Natural Bridge. The jaunt from parking lot to the inside of the Natural Bridge took us less than 10 minutes.
The one major suggestion we have is: BRING MICROSPIKES AND HIKING POLES. The slight downhill part was insanely icy when we visited and navigating it with a baby and no spikes was quite tricky. Lesson learned.
The Natural Bridge as seen from the very accessible manmade bridge
There were a handful of other people when we visited the Natural Bridge, though these groups came and went and we had time by ourselves inside what felt almost like a cave. The rocks have been sculpted by the rushing water and looking up and examining the rocks is really a delight. Nature is so incredible.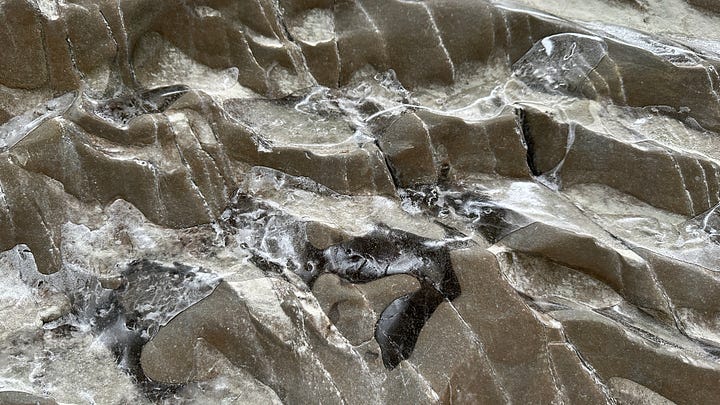 The rocks, frozen water and even sounds inside the Natural Bridge are really cool, and the landscape around it (see below) is also lovely.
If you are passing through Field, we recommend visiting this natural wonder, and while we're providing area recommendations, the poutine at Truffle Pigs is delicious and Emerald Lake Lodge is worth checking out if you're looking for a simple and unplugged night away.
Lastly, because we're sure you're dying to know how our ski trip was, we hit a wonderful powder day at Kicking Horse. (See photo evidence below.) Life is good. Hope you're enjoying the snow this winter, and if you're not, know that you've made it through February and spring is around the corner.
---
⛰️🥾️ 
Go Outside
 is written by 
Annalise
 & 
Cailynn
 —
 writers, outdoor enthusiasts and sisters who've been hiking, biking and skiing near Calgary since childhood and continue to be happiest outside.
📧
Subscribe today
 and you'll receive advice, stories, trip reports, interviews and outdoorsy goodness in your inbox on Tuesday mornings.
Go Outside wouldn't be possible without support from readers like you. Please consider becoming a paid subscriber.