Four Ways to Embrace a Pandemic Winter
A few ideas for thinking (differently) about the coming cold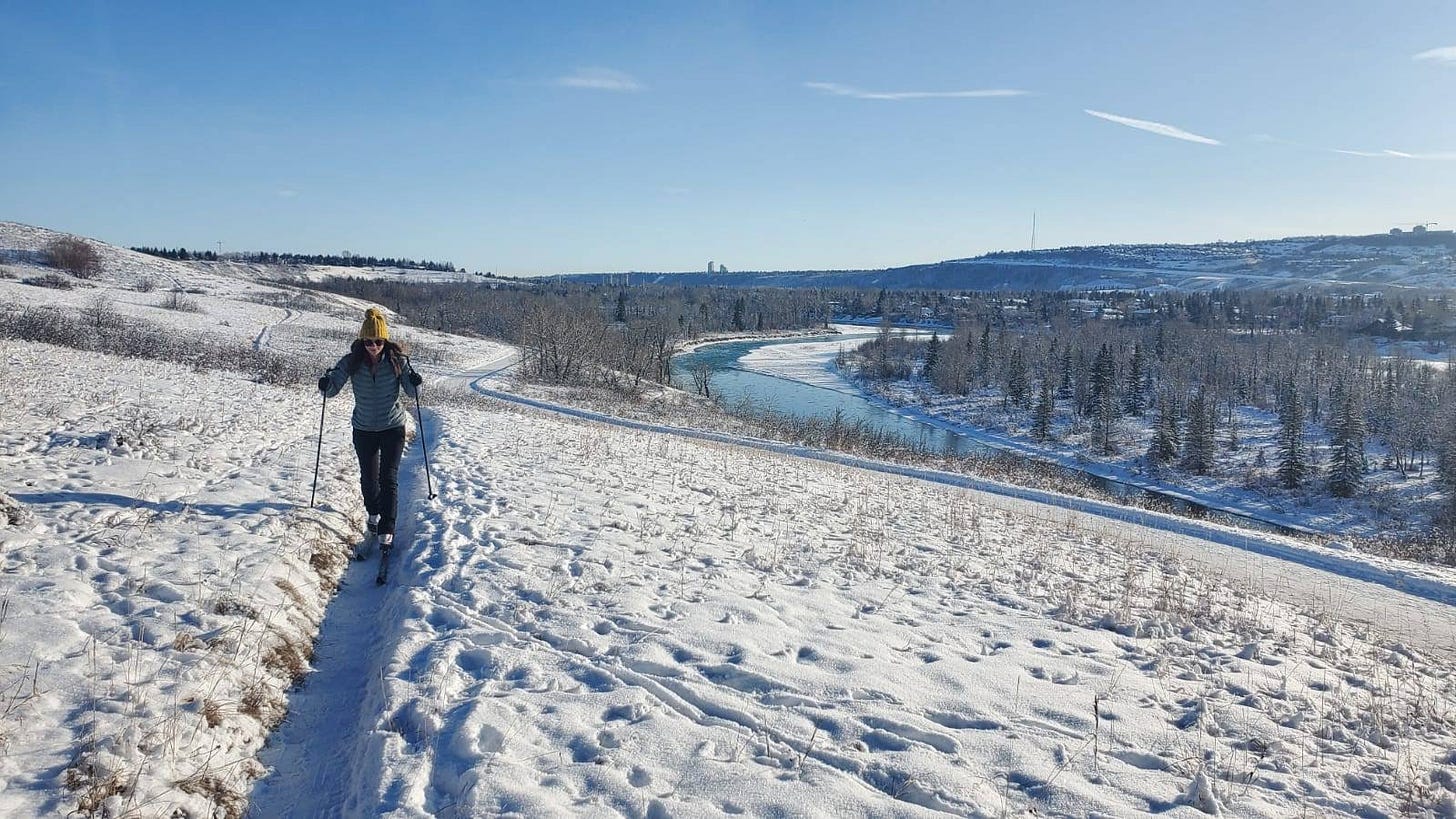 After the glorious fall weekend we just had, it's hard to believe winter is on its way. And, for many, it's going to be a doozy. For months now, public health officials have encouraged us to socialize outside to limit the spread of COVID-19. People have embraced visits in parks, walks with friends and summer nights spent on patios.
Winter, however, is a different story. Who wants to be outside when it's 20 below? Well actually … we do! 
While we've been counting down the days until there's enough snow to ski, we recognize our anticipation is not common. Many of our friends are dreading the colder, shorter, darker days, and we are well aware that a lot of Canadians despise winter. 
We're here to offer you some tips on embracing the looming winter. Why? Fresh air, physical activity and social connection are good for our health. So, if there ever was a year to love, not loathe winter, this is it.
Find a winter activity or hobby that gets you outside

We have a good friend who hated winter. Just absolutely dreaded it, every single year. That changed when he took up downhill skiing in his late 20s. Now, instead of being mopey on snow days, he's ecstatic about the fresh powder.

It's rewarding learning new skills as an adult, so find an activity — any activity — that gets you outside this winter. Consider cross-country skiing, snowshoeing, skating, winter biking, or simply going for a daily walk. 

As Dr. Robin Mazumder says in this honest piece from 2019 about his mental health and winter, "For as long as I can remember, winter was something I loathed. Winter cycling changed that for me." 

Your winter activity need not be expensive (like our friend who took up downhill skiing) or complicated. Just bundling up and heading out the door for a short stroll can be refreshing.

If your winter activity does require specific gear, such as skates or skis, make sure you purchase it now, rather than in two months when everyone else is as well. (Remember what happened with bikes in June?)

Consider the way you think and talk about winter

We're both firm believers that we all need to change how we talk about winter. Rather than framing it as a cold, dark, miserable season, what if we focused on the bright spots? There's endless beauty and joy in winter, if only we're open to finding it (like these patterns in the ice Cailynn spotted at Prince's Island Park a few years ago).

Picture this… you wake up to the sound of your neighbour shovelling snow, and turn on your radio or television to hear a host talk about how snowy, cold and terrible it is outside. Of course you're going to want to stay in your warm, cozy bed all day. 

What if cold and snow didn't have to be a bad thing? Could our weather forecasters and morning show personalities frame winter weather differently? We'd certainly love to wake up and hear a host saying, "Sure it's chilly but layer up and get outside because last night's dump of snow has transformed our city into a winter wonderland! What a beautiful day it is." 

A positive attitude goes a long way, especially in winter. We urge you to think about how you think and talk about winter, and perhaps, nudge others to do the same.

Bundle up and socialize outside

Several years ago, we went to a champagne and oyster event at Container Bar, a funky outdoor patio in Kensington. What made the event so memorable was it occurred in the middle of winter. We put on toques, scarves and jackets and sat outside with friends, eating, drinking and socializing under the stars.   

Here in Calgary, our city council made it easier and quicker for businesses to embrace 'pop-up' COVID-friendly patios this summer by reducing red tape and fees. We encourage our elected officials to do everything they can to help struggling bars and restaurants who want to keep their patios open this winter (or open them on certain days for special events).

Sure, eating outside, every single evening in winter isn't realistic. Some days it's simply too cold for most customers. But given how often Calgary gets those warm blasts of Chinook air, let's stop being such wimps about socializing outside.

We need only look to colder cities for inspiration. Cailynn lived in Edmonton for five years and watched as that city built a winter strategy that included a four-season patio culture. Edmonton has winter design guidelines that outline "how design strategies can block wind and maximize sunshine, and how colour and lighting can be used to enliven spaces." 

"You have to remind people every year that winter can be fun," Isla Tanaka, Edmonton's winter city planner, told The New York Times in January.  

Let's not reinvent the wheel here. We can learn from creative cities that were already embracing winter before the pandemic. Here's some more inspiration, this time from Winnipeg:

Learn what to wear and how to layer

There's a concept in Norway called friluftsliv (pronounced free-loofts-liv), which translates as "open-air living." Popularized in the 1850s, friluftsliv is all about embracing outdoor adventure, for all ages, in all weather. 

"From the remote Arctic to urban Oslo, friluftsliv means a commitment to celebrating time outdoors, no matter the weather forecast," explained a recent National Geographic article on the concept.

How, though, is this done? The article goes on: "But complain to a Norwegian about the weather, and you'll likely hear a cheery refrain: "There's no bad weather, only bad clothing!" (In Norwegian, it rhymes.)" 

We encourage you to embrace friluftsliv this pandemic winter, and to do that, learning how to dress appropriately is key. Take it from us — both people who get cold exceedingly easily, and have to limit our breaks outside on ski or snowshoe trips to just a few minutes. Yet we still explore outside, comfortably, all winter long, because we've figured out what layers work for us. 

For Cailynn, merino wool long johns are crucial for everything from a quick winter walk to the grocery store to a backcountry ski trip. Annalise also swears by merino wool base layers.

Moisture, whether from snow or sweat, is bad news when you're exercising outside during winter. Dressing in layers that you can remove as soon as you start sweating, and then put back on as needed, is the key to a happier outdoor sporting experience.
---
We hope this post gets you thinking about winter, and maybe thinking about it differently. We also hope you have a lovely Thanksgiving long weekend and get to enjoy the unseasonably warm fall we're having. If you make it to the Bow Valley Parkway for a weekend ride, keep tagging us in your tweets or sending us your photos. We love seeing how many of you are going outside! 
And hit that green button below to receive our weekly newsletter, filled with ideas and advice for getting outside no matter the weather.