Discover more from Go Outside
Go Outside is a newsletter that lives up to its name; it's all about going outside.
Over 2,000 subscribers
A Once In A Lifetime Bike + Hike
Ride on a car-free Bow Valley Parkway before it's too late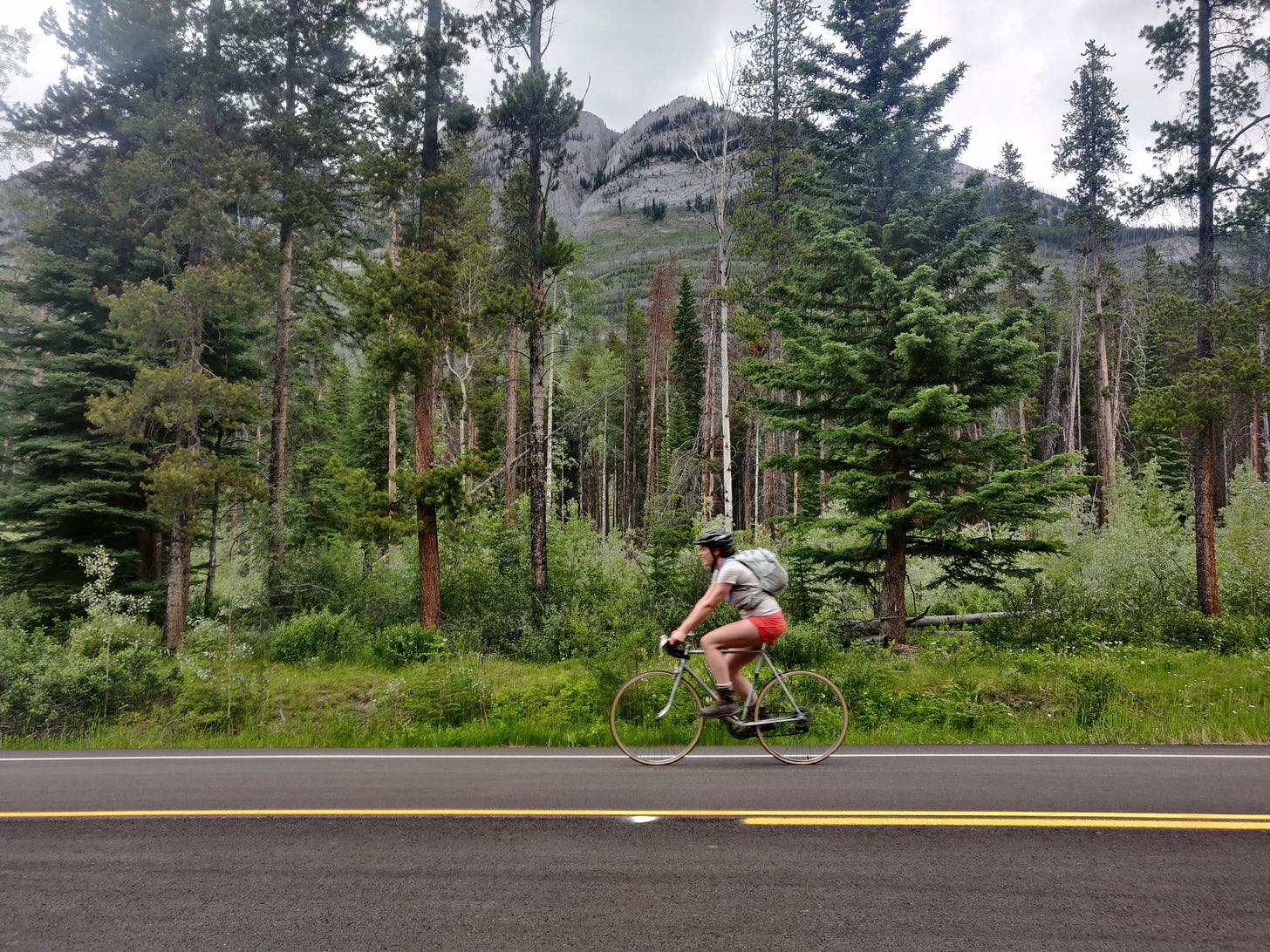 Between Banff and Lake Louise, there's a scenic secondary highway that runs parallel to the Trans-Canada Highway. The Bow Valley Parkway (a.k.a. Highway 1A) is known as a slower drive full of wildlife viewing opportunities. It's also the road that takes you to the Johnston Canyon trail.
This spring, in a move made to limit the spread of coronavirus on the popular trail, the road was quietly closed to motor vehicles and opened to people for a 24-kilometre stretch from the parkway's East Gate to Castle Junction. 
Oh, and did we mention it's freshly paved? That means it's now an AMAZING place for people of all ages and abilities to ride bikes while soaking in the mountain vistas! We've seen people out on everything from strider bikes to e-bikes to rollerblades over the past few months. 
Plus, that aforementioned trail — Johnston Canyon, which also connects to the Ink Pots (seven striking, spring-fed pools of water) — is still open, but only if you access the trailhead without a motor vehicle. So, there's now a dreamy bike + hike combo we highly recommend.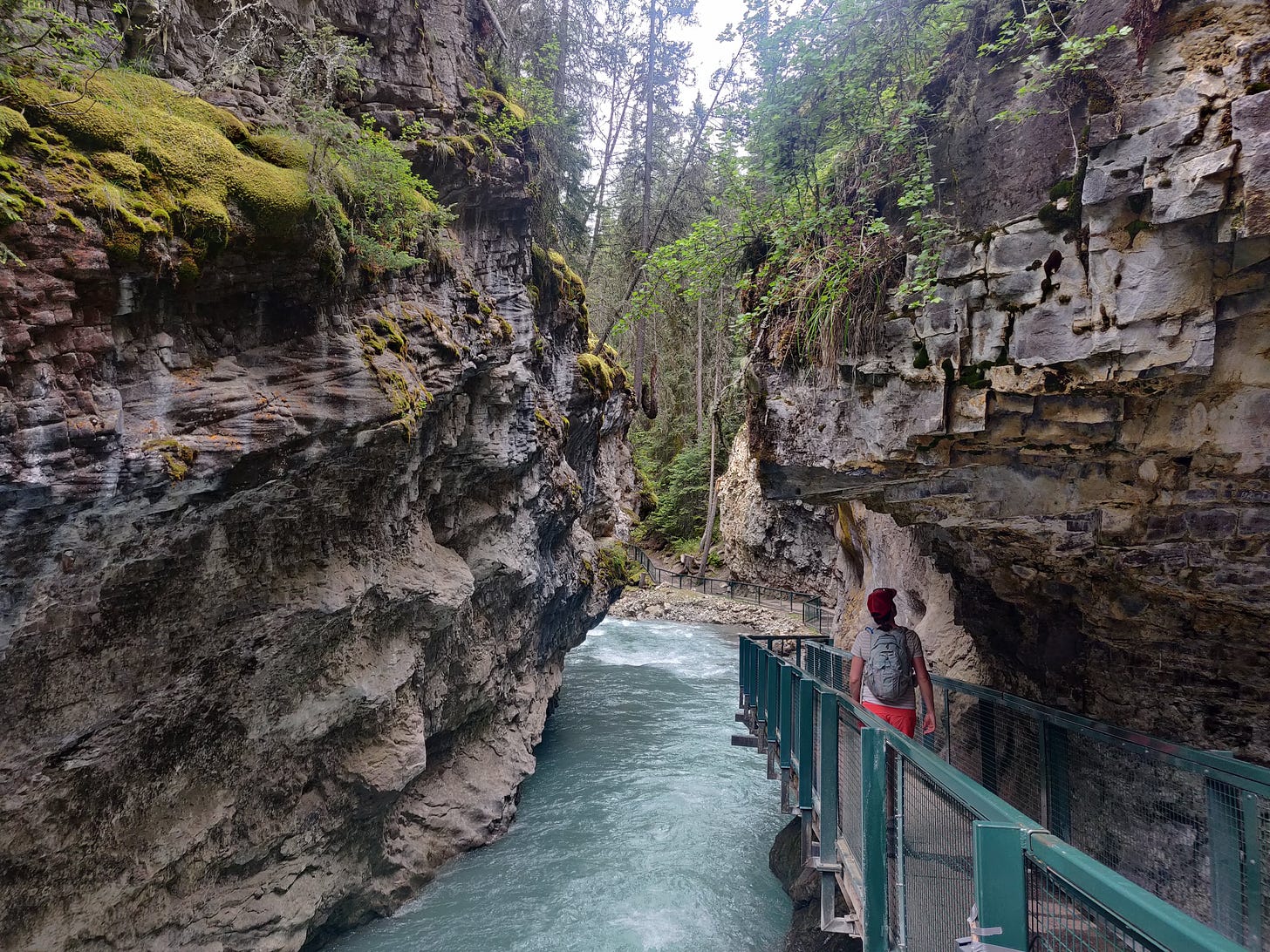 You can bike on a car-free highway here, to the popular Johnston Canyon trail.
There is one catch though...this pandemic perk might be over soon. 😥 We've long been uncertain about how long this opportunity will last, as Parks Canada has said little about it and avoided promotion (instead the route spread through word of mouth).
The government agency now says they'll re-evaluate the current vehicle restrictions after the Thanksgiving weekend, meaning you may only have a couple weeks left to bike the parkway! If you don't want to miss this (potentially) once-in-a-lifetime experience, we highly encourage a visit now.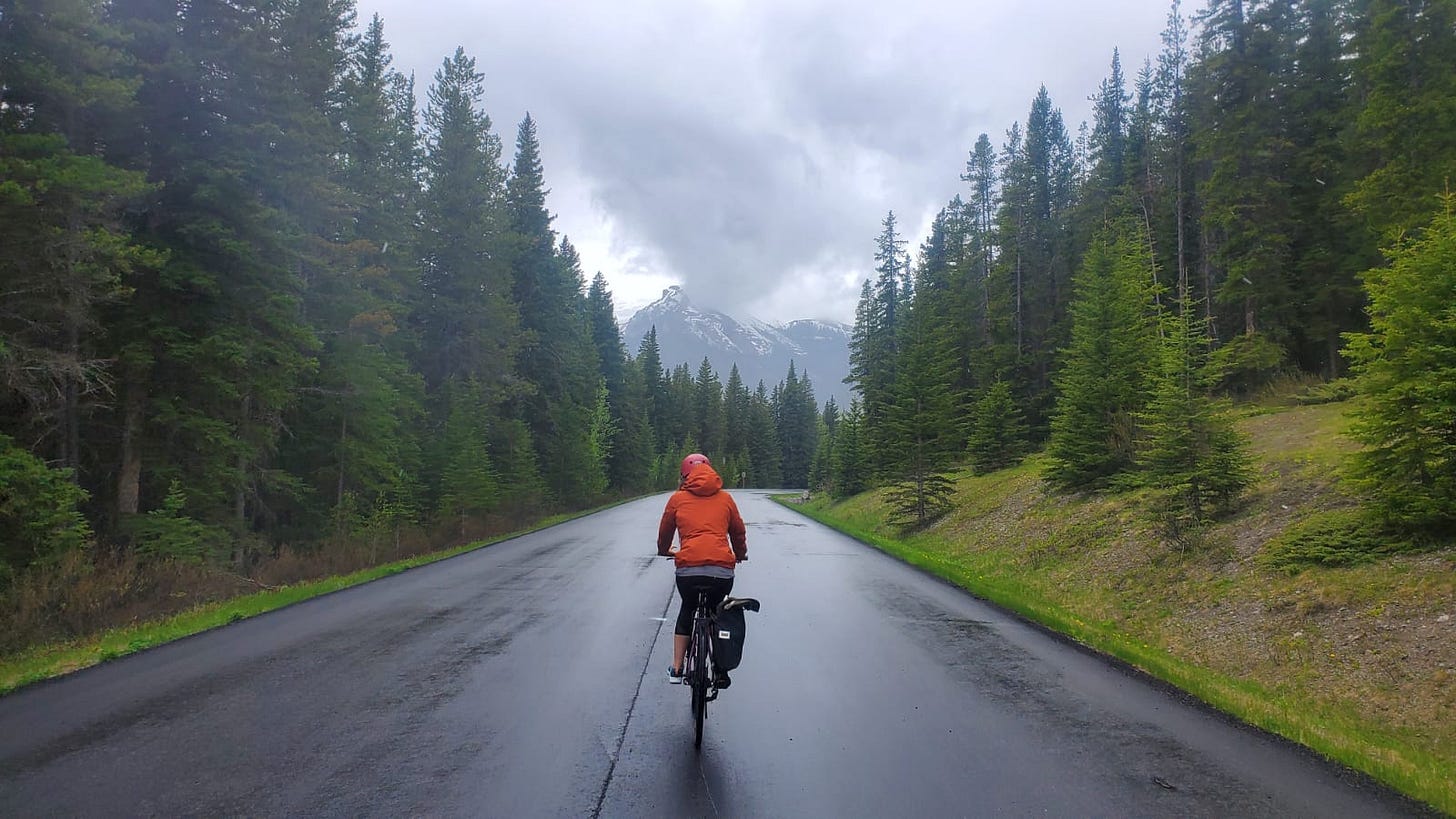 How amazing is it that this bike route is a 90-minute car ride from Calgary?
We've biked this road multiple times this summer (it's just that good), and Cailynn has done it as a bike + hike. Here's what you need to know:
Will I have to bike with cars? Private vehicles are currently not allowed on the Bow Valley Parkway between the Highway 1 Junction and Castle Junction. (You may, however, see service vehicles.)

Where do I start the ride? There's a few options. There's a handful of parking spots at the Bow Valley Parkway's East Gate, right when you turn off Highway 1. These spots fills up fast, so consider starting in Banff, which will add just over 6 kilometres to your ride. Annalise rode this route in June by parking at the Fenlands Recreation Centre in Banff and she enjoyed the mellow, 20-minute bike past Vermilion Lakes to the Parkway's East Gate. 

Why just bike when I can bike and hike? We agree! Johnston Canyon is located about 17 kilometres down the Parkway from the East Gate. Lock your bike to the new racks near the trailhead and walk 1.2 kilometres to the Lower Falls viewpoint. The Upper Falls is another 1.2 kilometres and the Ink Pots are about 3 kilometres farther. (It's worth it, says Cailynn.)      

Ohhhhh, ahhhh! Walk around the beautiful blue-green Ink Pots.

This sounds exhausting. What if I don't want to bike 17 kilometres and then hike? No worries! Different strokes for different folks. For a shorter bike ride to Johnston Canyon, you can park at Castle Junction. The ride to Johnston Canyon is about 7 kilometres from this parking spot — perfect for new peddlers.  

One of two waterfalls you'll see on the Johnston Canyon trail.

I want a longer bike ride! Cool, cool, cool. You can start on the Legacy Trail in Canmore and bike all the way to Castle Junction. You can also continue on the Bow Valley Parkway past Castle Junction, just note vehicle access opens at Castle.

Are there any snack spots? Great question. Snacks are always top of mind when Annalise goes outside. The Castle Mountain General Store sells treats including ice cream, sandwiches and baked goods, which we haven't tried but a friend highly recommends, especially the cookies. There is also a bistro and cafe at the Johnston Canyon Lodge, meaning more treats plus a full breakfast, lunch and dinner menu.

What else should I know? Watch for wildlife! We both saw bears while biking the Parkway; always carry bear spray when hiking or biking in the mountains. For a more detailed description of all these options, including an elevation chart and map, we loved this write up. And we also loved the radio documentary on this ride that ran on CBC's national program, The Current.
Finally, if you make it out, or if you already have, CPAWS is running a survey. 
---
ICYMI, our inaugural Go Outside newsletter one week ago was all about larches. We loved seeing your (snowy!) photos of larch marches. Thank you for all the support, sign-ups and shares in our first week, we truly appreciate it!