Discover more from Go Outside
Go Outside is a newsletter that lives up to its name; it's all about going outside.
Over 2,000 subscribers
Explore an Expansive Outdoor Art Exhibit in Banff
The free Art in Nature Trail runs until September 30
Go Outside subscribers receive advice, stories, trip reports, interviews and outdoorsy goodness in their inbox on Wednesday mornings. If you enjoy and benefit from our work, we invite you to become a paid subscriber. Contributions from readers like you make this newsletter possible. Plus, you'll get a limited edition Go Outside patch (we only have a handful left!)
On a recent rainy trip to Banff, I (Annalise) stumbled upon something wonderful while walking near the river.
A simple quote in the grass beneath a tree.
Obviously intrigued, I kept walking and discovered art piece after art piece. I was on Banff's Art in Nature Trail, which lucky for you, dear reader, runs until the end of September.
The free exhibit opened in July and features more than 65 pieces of art, all located outside, in nature, along the banks of the Bow River. What's already a simple stroll with calming views has been transformed into a whimsical walk with loads to look at, thanks to artists who reside in the Bow Valley and a partnership from Banff & Lake Louise Tourism, Carter-Ryan Productions and the Town of Banff.
The artwork ranges in size and medium and there really is something for everyone. If you walk the entire trail, you'll see three kilometres of art. Each installation features a title card with the artist's name, the name of the piece and a QR code, and this brochure includes more information about each artist.
I was impressed at the size of the exhibit (it keeps going and going) and loved how different the pieces are. If you're looking for something simple (and not strenuous) to do outside, in the mountains this summer, be sure to check out the Art in Nature Trail. We love outdoor installations like Banff's that add a little wonder to the natural environment. (It reminded us of Calgary's free winter light exhibit, though Banff's Art in Nature Trail is much, much longer.)
Pets are allowed, as long as they're on a leash. This map below from the Art in Nature Brochure details exactly where the exhibit begins (this is not where Annalise started it) and there is plenty of signage along the route that will keep you on track.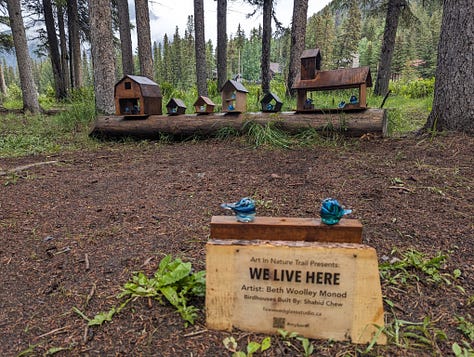 We're taking next week off for the long weekend. Happy adventuring! We'll be back in inboxes on August 16.
---
⛰️🥾️ 
Go Outside
 is written by 
Annalise
 & 
Cailynn
 —
 writers, outdoor enthusiasts and sisters who've been hiking, biking and skiing near Calgary since childhood and continue to be happiest outside.
📧
Subscribe today
 and you'll receive advice, stories, trip reports, interviews and outdoorsy goodness in your inbox on Wednesday mornings.