Discover more from Go Outside
Go Outside is a newsletter that lives up to its name; it's all about going outside.
Over 2,000 subscribers
It's Time For a Larch March!
Why late September is the most magical time to hike in Alberta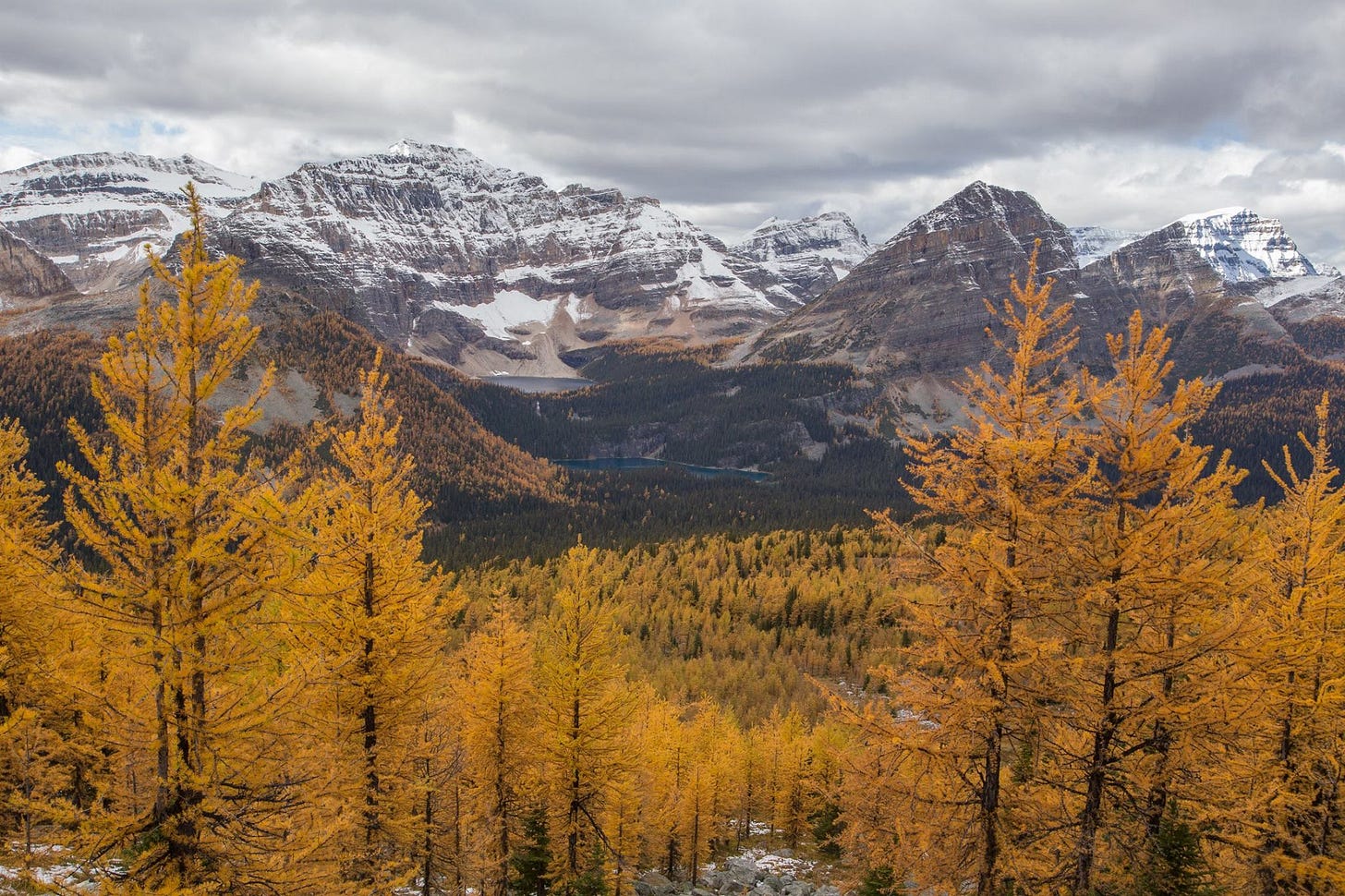 Every September, a burst of colour appears alongside many mountain trails when the needles on larch trees turn from green to golden. That switch creates a magical scene. But it's short lived, as after the needles turn golden, they drop off. 
I (Cailynn here) LOVE larch season, which typically lasts for about two to three weeks starting in mid-September. It's my favourite time of year to hike, because the colours are just so striking. Plus, alpine larches are fascinating: they tend to grow in small groves, can only survive at high altitudes, and the older trees can be incredibly gnarled and interesting. 
This past weekend, Annalise and I headed out to Banff National Park's famous Larch Valley to soak in the scenery. The larches have turned, and gosh are they ever beautiful!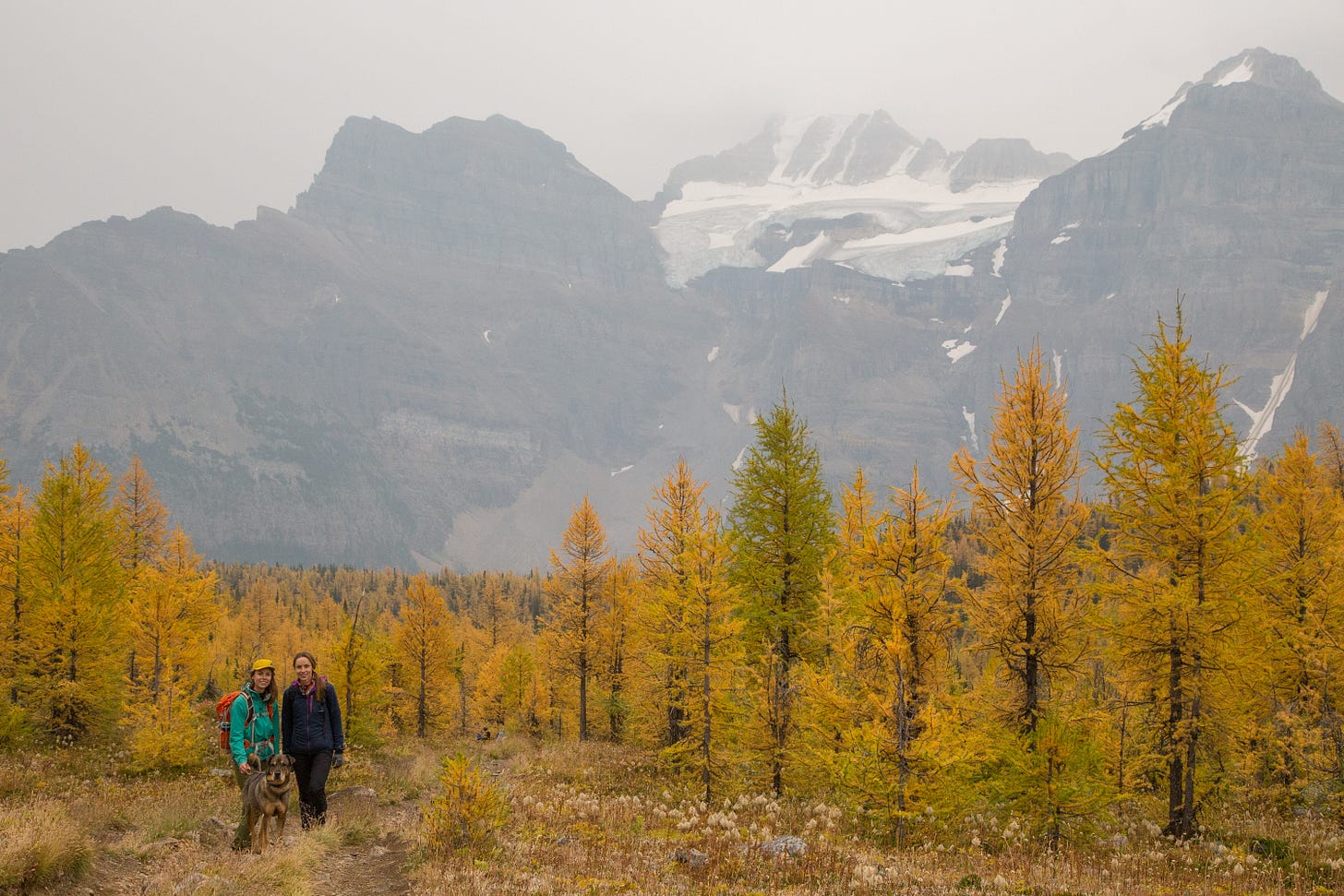 Finally saw for ourselves why Larch Valley is so popular.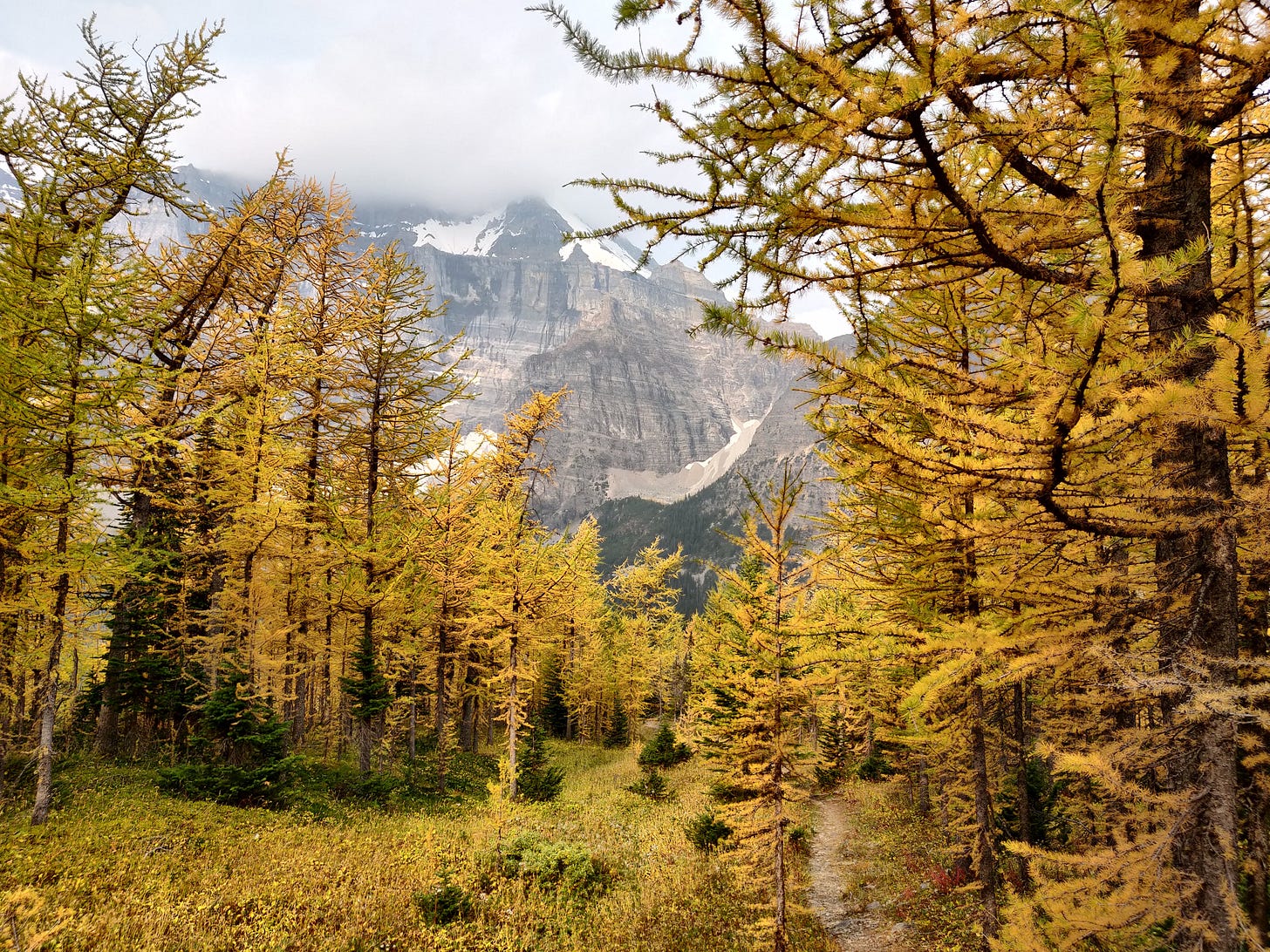 After hiking through Larch Valley, we continued over Sentinel Pass and down into Paradise Valley, which definitely lived up to its name.
Enough gushing (says Annalise)... people need to know where they can go outside to find larches before the golden goodness disappears!
Larch Valley is the most well-known larch hike in the Rockies, and for good reason, as we discovered. But that means it's also very busy and involves quite the early rise (we left Calgary at 3:45 a.m.) to try to get a parking spot at the Insta-famous Moraine Lake, where the Larch Valley trailhead starts.
Despite arriving at 5:45 a.m., the parking lot was full and our nine person/two dog hiking group had to enact Plan B, involving dropping people off at Moraine Lake, leaving vehicles at the Paradise Valley trailhead, two lucky group members biking 10km back up to Moraine Lake in the dark, and then a full day of hiking. Whew!  
Obviously, such logistics are not for everyone. Fortunately, there are PLENTY of other hikes full of lovely larches that are shorter and less busy.
Here are three of our favourite larch hikes near Calgary:
Looking for a truly stunning, lengthy (more time with the larches) and well-maintained trail? Healy Pass in Banff National Park is a beauty.

WOW. That's what we kept saying when we hiked Healy Pass on September 24, 2016. The picture at the top of this post was also taken on the Healy Pass trail.

Is a moderate, varied route packed with larches and mountain vistas your jam? Burstall Pass in Kananaskis is the trail for you.   

You might think snow in September sucks, but keep in mind it also makes those golden larches pop. Here's proof from Burstall Pass on September 30, 2018.

New to hiking? Ptarmigan Cirque is a 4.5 kilometre loop with just 210 metres elevation gain, making it perfect for newbies, families and kids.

Ptarmigan Cirque is our top pick if you want to see larches without a full day of hiking. Here it is, bursting with colour, on September 20, 2020.
Don't want to wake up at 3:15 a.m. but do want to go explore the famous Larch Valley? Check out the shuttle service from Roam Public Transit and Parks Canada.
Be prepared for busier trails during larch season and have a Plan B in mind for if you show up to a full parking lot. Plus, you'll need to research route descriptions and trail conditions before you head out. Annalise does research beforehand with the AllTrails app, which includes descriptions and recent reviews, while Cailynn kicks it old school by turning to hiking guidebooks and carrying a Gem Trek map.
Happy hiking! Let us know if you go outside and see larches this year, plus hit that green button below to receive our weekly newsletter.
---
Before you go, you might just be wondering… who are we and what is Go Outside?
COVID-19 restrictions have led more Albertans than ever before to explore their own backyards. We're twin sisters who have been hiking, biking and skiing near Calgary since childhood (that's us👇), and we want to help more people Go Outside.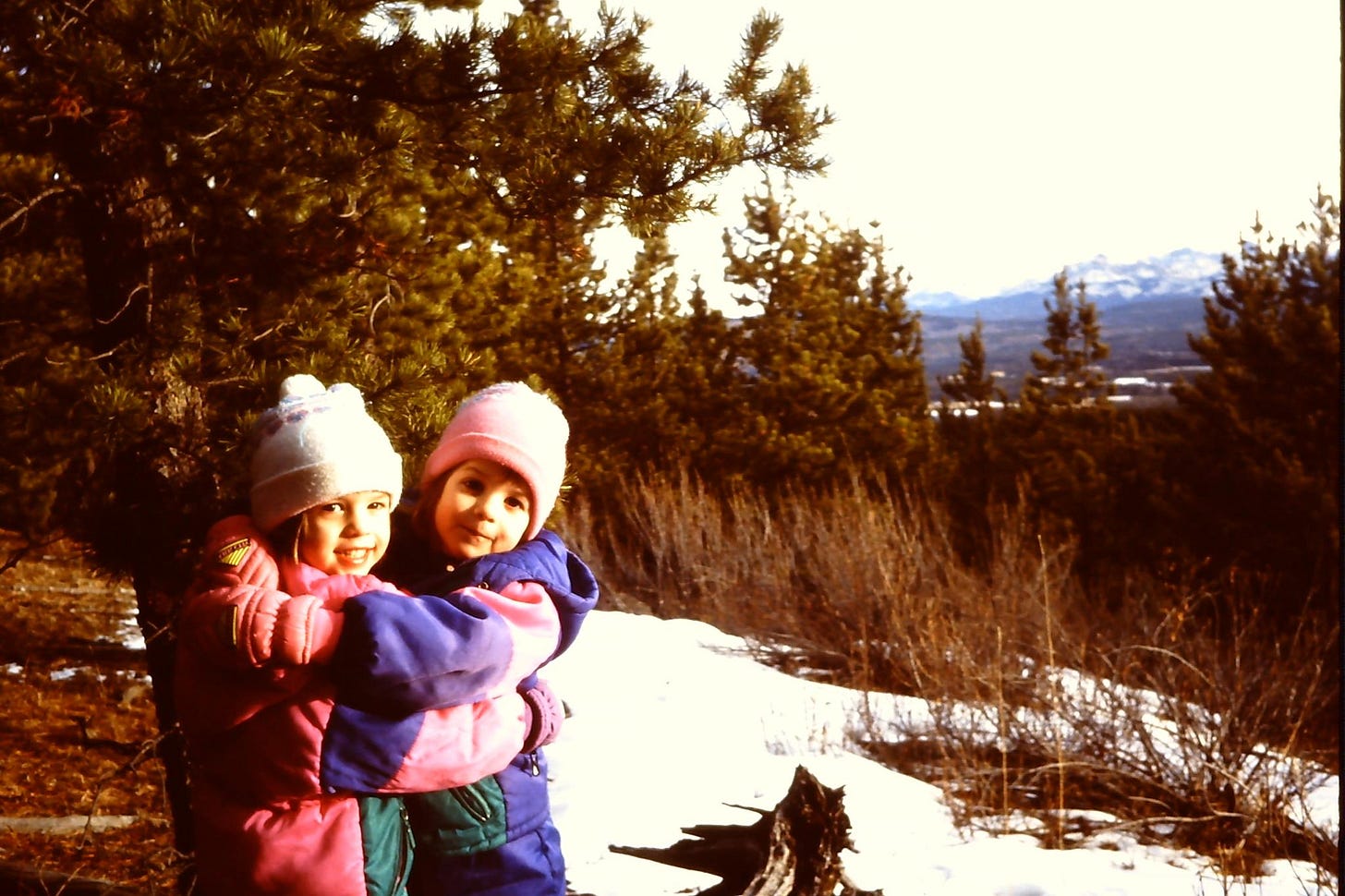 So please subscribe, tell your friends to subscribe and let us know what you think. Thanks for joining us!