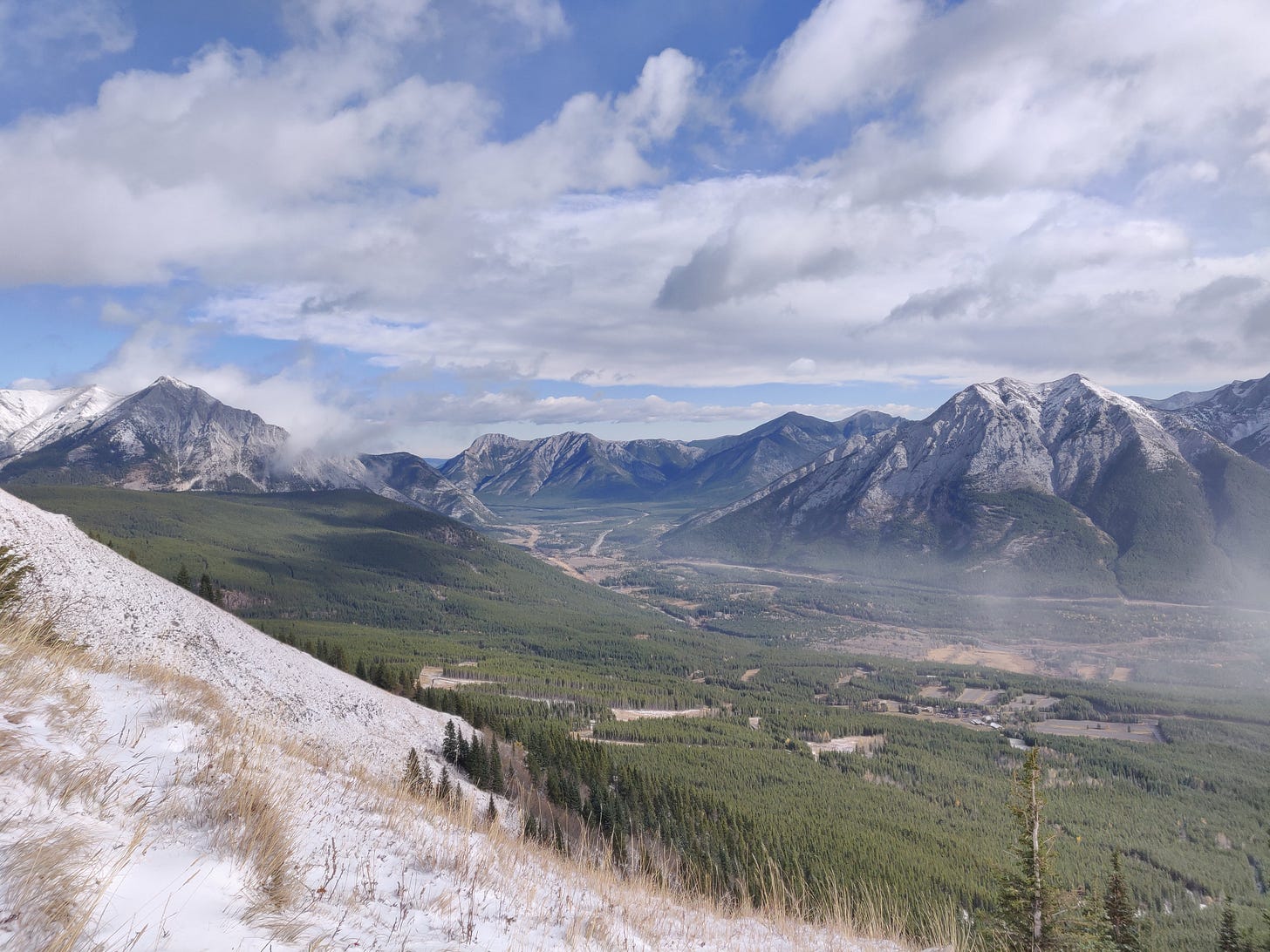 Shoulder season has arrived, that in-between time of year when it feels too cool for summer activities but there's not yet enough snow for winter fun.
We'll be honest here — shoulder season is not our favourite season. Gone are the long summer days conducive to full-day hikes and overnight trips. And so begins an impatient wait for the weather that makes skiing, skating and snowshoeing possible.
BUT there are upsides to this time of year. No bugs! No sunburns! Less busy trails! Photogenic snow capped peaks! All those factors make shoulder season activities worthwhile, as long as you're willing to layer up and be ready for inclement weather.
I (Cailynn) headed out to Kananaskis on Sunday, hoping to hike a trail I've avoided during a busy summer, the Mt. Allan/Centennial Ridge trail. This is a well-marked hike involving lots of uphill and stunning views. I would not recommend it for beginners (scroll down though, we have some easier shoulder season hiking suggestions!)
The hike started with prime October conditions: crisp air, the tail end of autumn colours, and just a few other groups out. But a storm quickly rolled in, bringing with it limited visibility, howling wind, pelting snow and slippery conditions.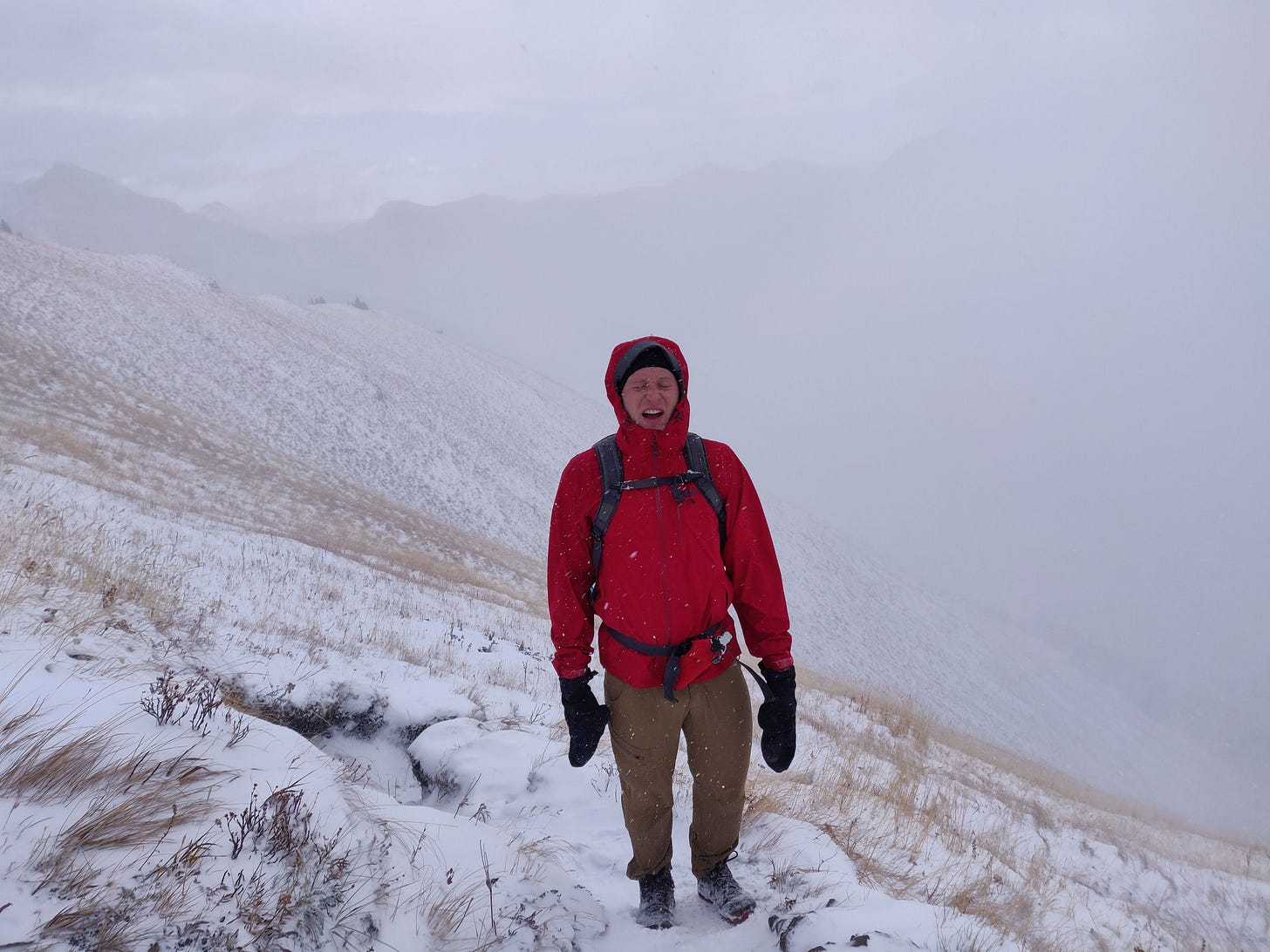 My ever-optimistic hiking partner Darren says this is weather that "makes you feel alive"
While the conditions led us to turn back early, the weather cleared on the way back down, revealing stunning views (see below, plus the photo at the top of this post).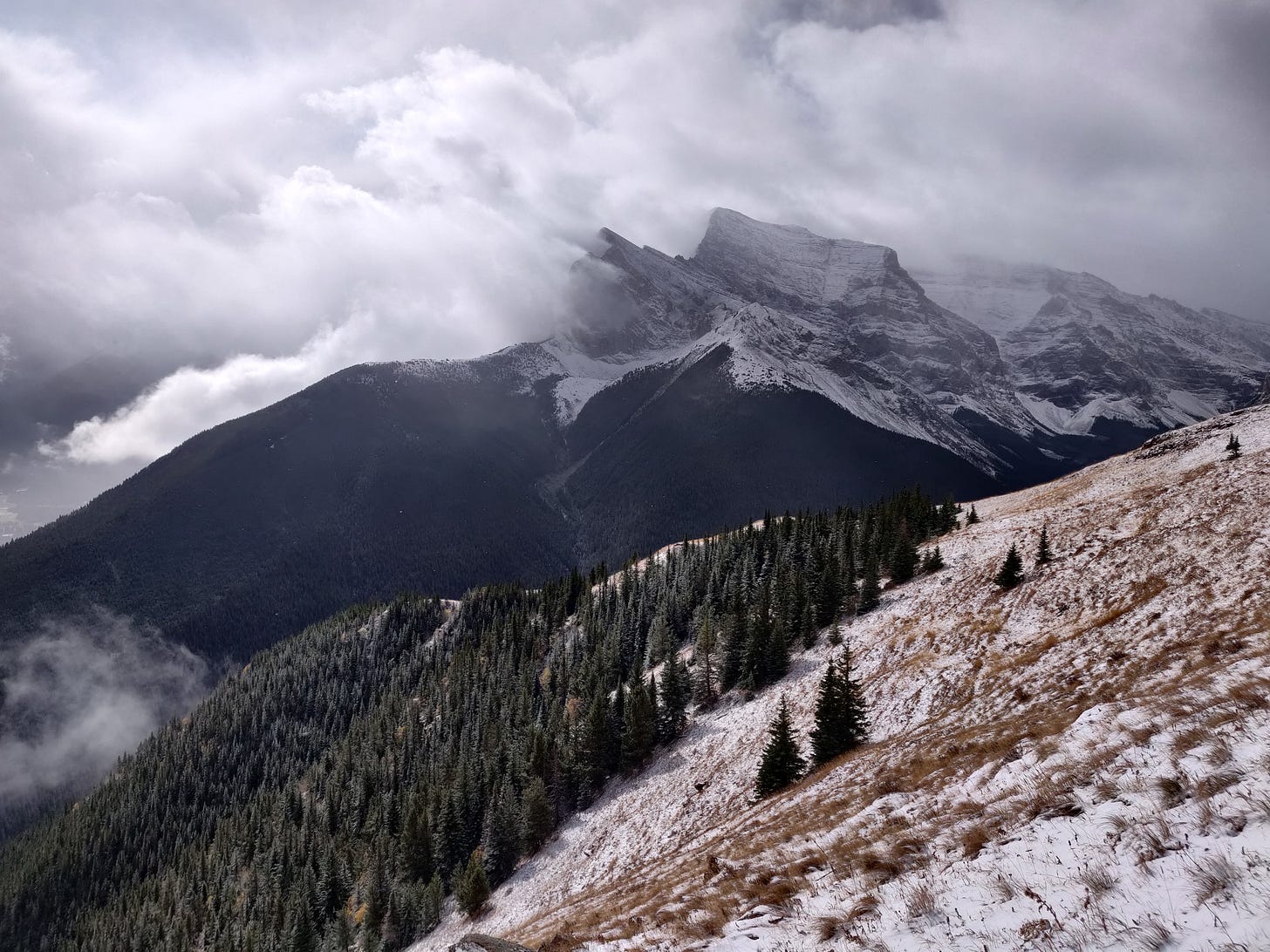 See, we told you shoulder season hiking was worth it!
Annalise here. As Cailynn's weekend adventure demonstrates, the weather can change in an instant in the Rockies, especially during shoulder season, so be prepared! Pack lots of layers; wear hiking boots, not running shoes; and keep a toque, gloves/mitts and waterproof outer layers in your backpack, even if it's warm and sunny when you start hiking. And be flexible with your plans. Don't be so focused on reaching a summit (or getting that 'gram-worthy hot shot) that you put yourself in a dangerous situation.
Our big tip for those wanting to hike before winter really hits is to look at routes at lower elevations, where you MAY be less likely to encounter snow. But, again, we can't emphasize enough that you should pack those warm layers and be prepared for all types of weather. I (Annalise) enjoyed T-shirt weather while camping west of Cochrane on Sunday and woke up Monday morning to more than 10 centimetres of snow.
As always when hiking, pack bear spray and be bear aware (yes, bears are still out), and please stay on the official trail! This goes for parking lots too… only park in designated spaces. Have a backup plan so that if you show up and there's no spots, you can easily head elsewhere.
If we haven't yet discouraged you from shoulder season hiking (we swear, it's fun and beautiful and good times!) here are some suggested routes:
Looking for an easy family-friendly hike? Troll Falls involves a very short trail that leads to a beautiful waterfall.
Want to fit in a full day-hike before it's too late? Rawson Lake is a lovely option that features a stunning lake as reward after a moderately steep hike in.
Tunnel Mountain in Banff is the sort of trail we'd typically avoid during summer because it's simply too busy, which makes shoulder season a better time to check it out. With a trailhead located right in Banff, this short, steep hike leads to panoramic views of the Banff townsite and surrounding mountains.
Happy hiking!
---
Welcome to all our new subscribers. We look forward to sharing ideas and advice for hiking, biking, skiing and more outdoor fun in and near Calgary with you. If you're not yet a subscriber, just hit that green button below to receive our newsletter in your inbox every Tuesday morning.
Before we go, there's a few upcoming events to tell you about as we all prepare for a pandemic winter. If you're considering cycling this winter (it's so fun, says Cailynn), you may want to check out this free virtual event this Thursday.
We're also looking forward to Avalanche Canada's free weekly webinars, covering avalanche safety for specific user groups. Pre-registration is required; get all the deets here.