Discover more from Go Outside
Go Outside is a newsletter that lives up to its name; it's all about going outside.
Over 2,000 subscribers
Take a Walk Through This Incredible Outdoor Art Gallery In Calgary
'There are so many things that would be better with a mural,' says Sunnyside alley art booster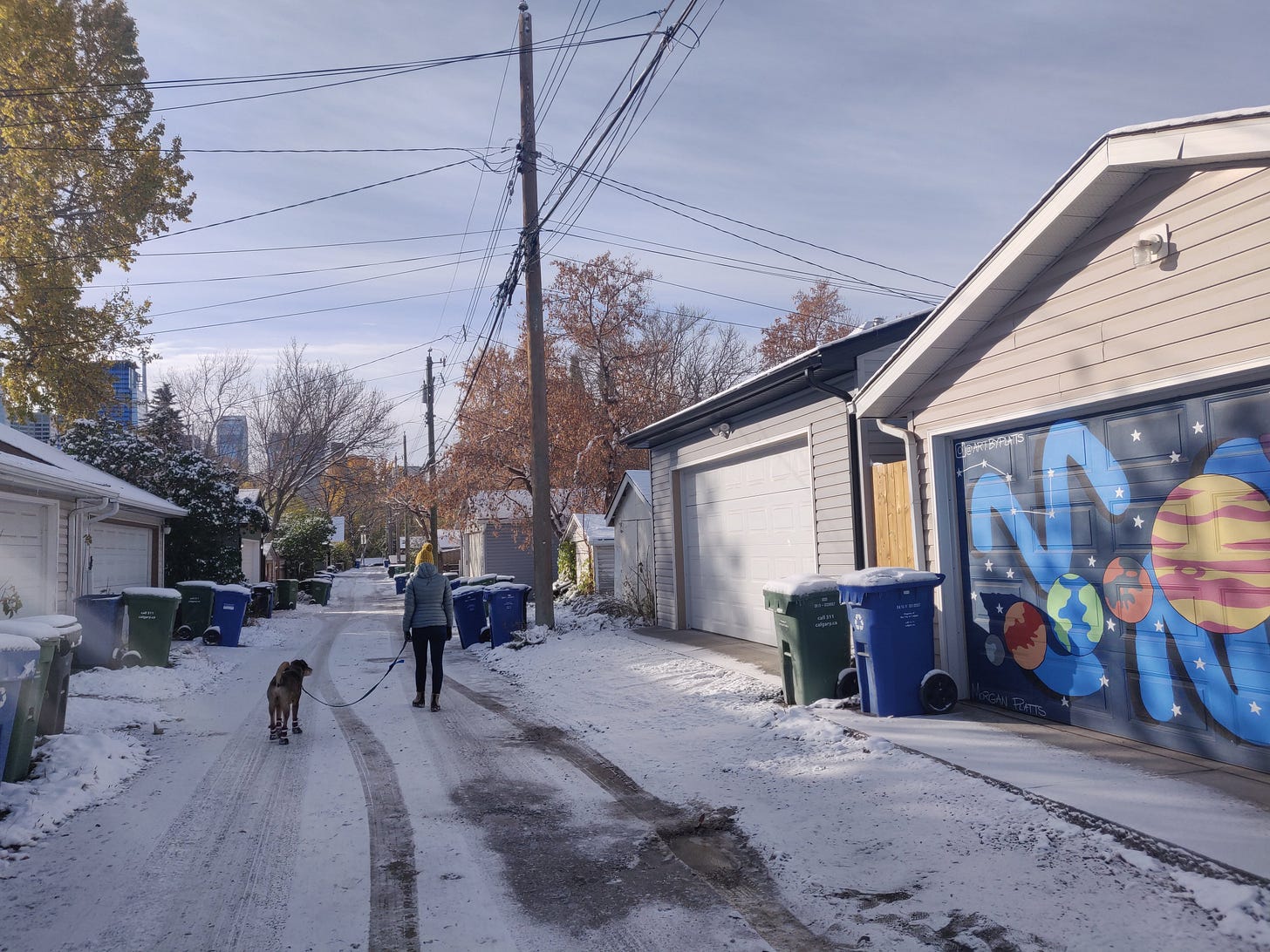 Solar System by Morgan Platts
This week we're sticking close to home and taking you on an inner-city walk that's the perfect antidote to a dreary day. 
Colourful art brightens numerous garage doors, fences and even houses in Sunnyside. If meandering is not your style, here's a handy map directing you exactly where to find them. Here's hoping these works of art add some beauty to your day, and maybe even inspire you to bring a little creativity to your own neighbourhood.  
Sunnyside resident Cailynn bring us the following dispatch from an incredible outdoor art gallery in Calgary.
---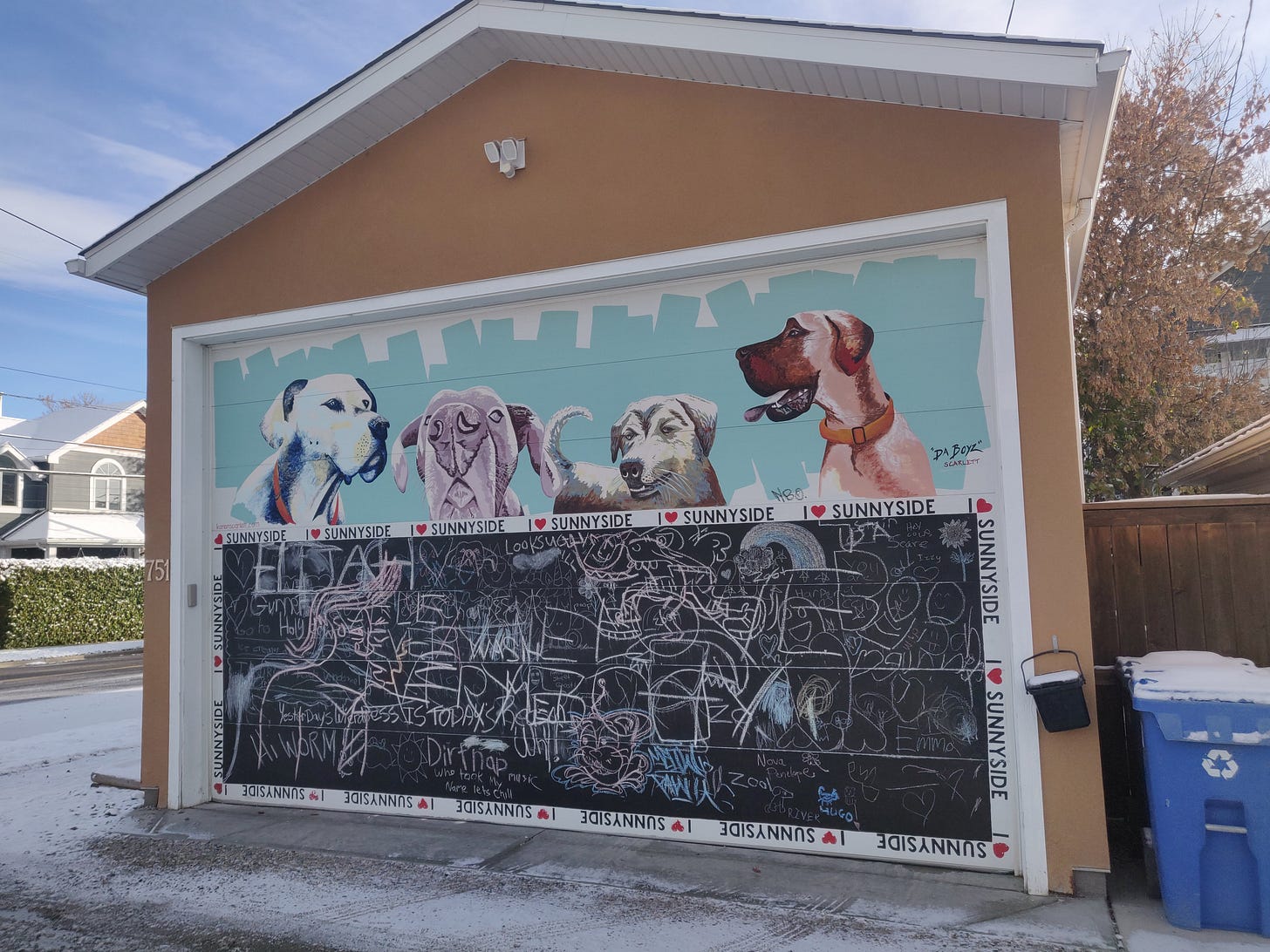 I ❤️ Sunnyside Community Chalkboard by Karen Scarlett
Across Calgary's alleyways, hundreds of thousands of garage doors sit blank and boring. It's a different story in the inner-city neighbourhood of Sunnyside, where garage doors are considered to be blank canvases.
More than 20 garage-door murals brighten the community's back lanes, depicting scenes including smiling bike riders, a cross-country skier, neighbourhood dogs and cats, the solar system and even a bathtub. 
"I have always thought that garage doors are probably the ugliest aspect of any house," says Jennifer Blanchard. Her freshly painted garage door is the newest addition to Sunnyside's growing collection of alley art. 
Blanchard has long admired other artwork in her community. When neighbours in her alley had their garage door painted with a panda this summer, she says it pushed her over the edge. 
So she commissioned local artist duo Nasarimba, who asked her to share colours she liked and any subject matter she had in mind. Blanchard suggested something inspired by the Alberta wilderness, as she's been spending a lot more time outdoors this year. The result is a stunning wolf, staring out from a stylized forest.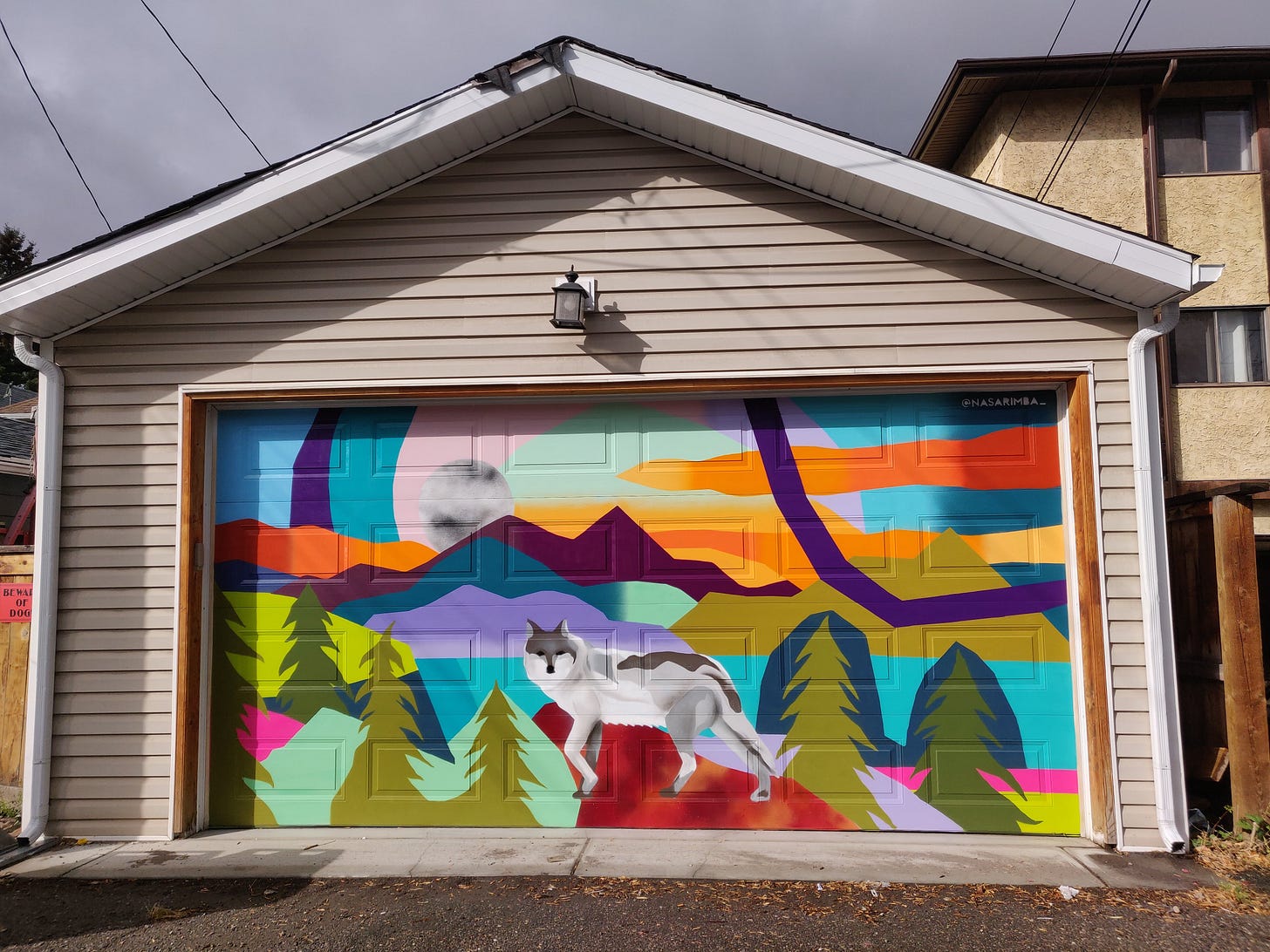 Wolf by Nasarimba
"On my way to work I've kind of ducked down my alley with no reason, just to look at it and admire it," Blanchard says. "I like that it's bright and it's interesting."  
Sunnyside's alley art — which has also paved the way for art on houses, fences and even under an LRT bridge  — started about two decades ago, when a teenager who wanted to be a graffiti artist was given a garage door to paint. That first mural by Aerosolic led to two other painted garages in the same alley.
Sunnysider Christie Page loved that original alley art. It made her want to paint her own garage door, but she worried what the neighbours would think.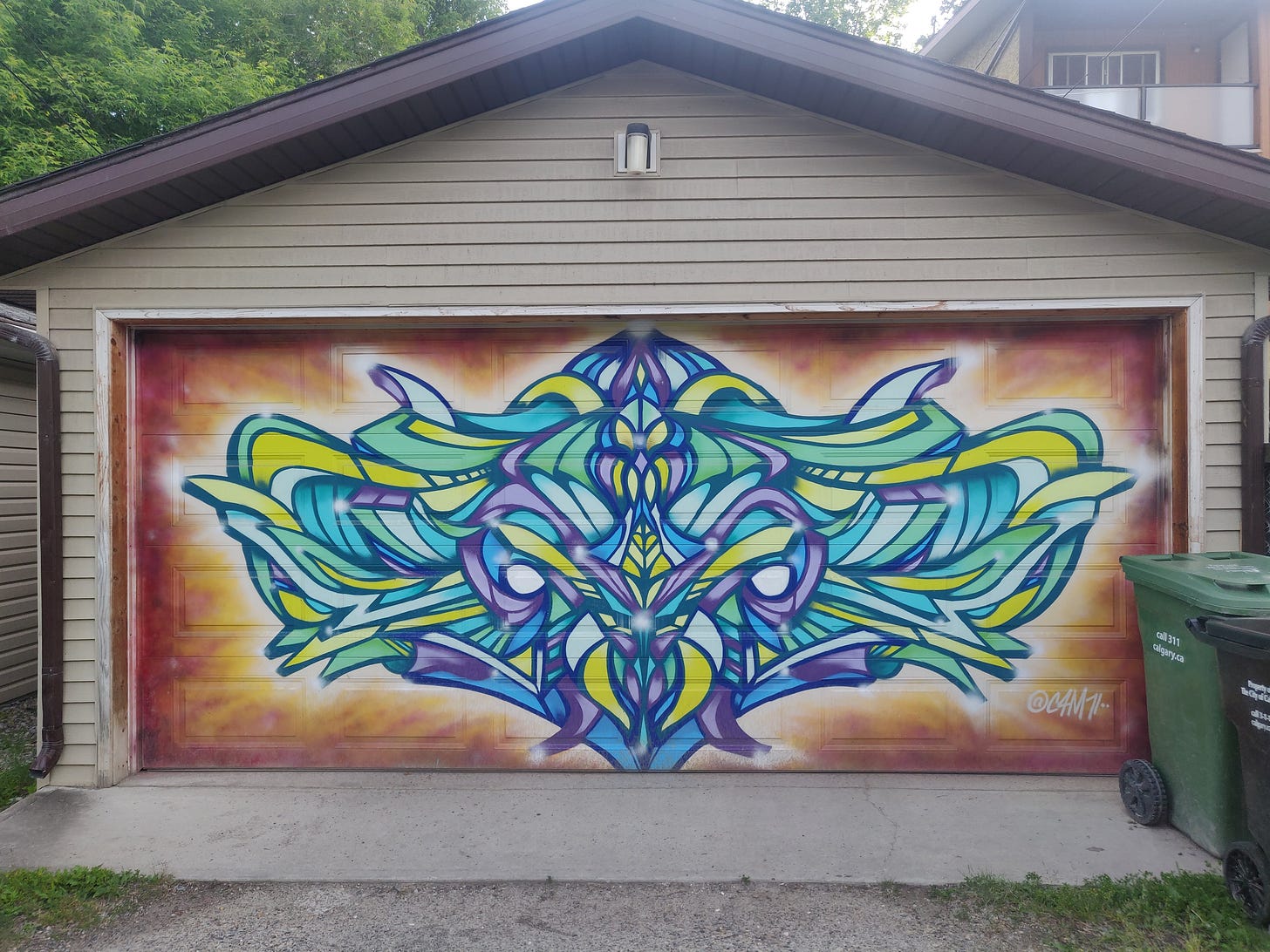 Bird by Cam Fawns
Then new neighbours moved in, and a few weeks later, they had a friend paint mountains on their garage door. "She just went and did it and I thought that was really cool. And so that summer I painted mine," says Page, whose bathtub mural is a reflection on the 2013 flood.
In the past five years, Page has become somewhat of an alley art evangelist. She encourages residents to paint their own garages or hire local artists, curates a Google map and Instagram page of Sunnyside's growing outdoor gallery, and hosts Jane's Walks touring garage art. 
Page says art adds joy to the neighbourhood, while also bringing more eyes to back alleys, thus making spaces safer. Plus, there's a benefit particular to our times: alleyways provide more space for physical distancing than skinny sidewalks. 
"I ask people who don't have a garage door to paint their fence or garbage bin. There are so many things that would be better with a mural," Page says.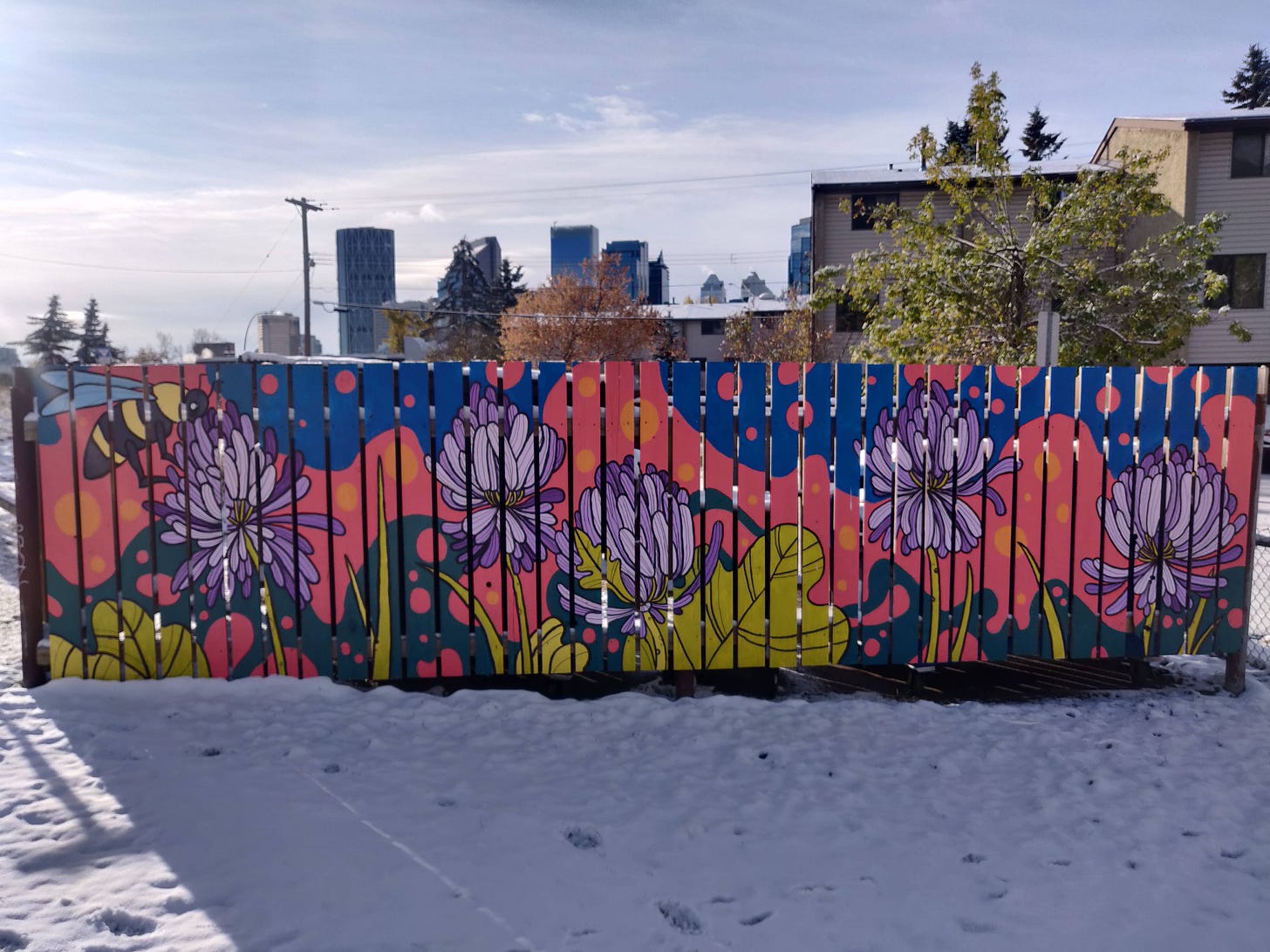 Bees Please by Sarah Johnston
Page's vision of Sunnyside as a vibrant outdoor art gallery got a big boost this summer. Five public pieces were completed as part of the Sunnyside Murals Project, while a Neighbour Day art crawl featured artists painting garages, including a mural by freelance illustrator Adrienne Tollas.
Tollas says she was super excited, and a little intimidated, when Sunnysider Curtis Mah asked if he could commission her to paint his garage door. "It's a big painted piece that's going to hopefully last for a long time," Tollas says. "It's a privilege to be a part of." 
The piece, titled Roots, reflects the house's history. An early resident founded the longtime local business Sunnyside Greenhouses, and planted and nurtured the backyard plants that still grow today.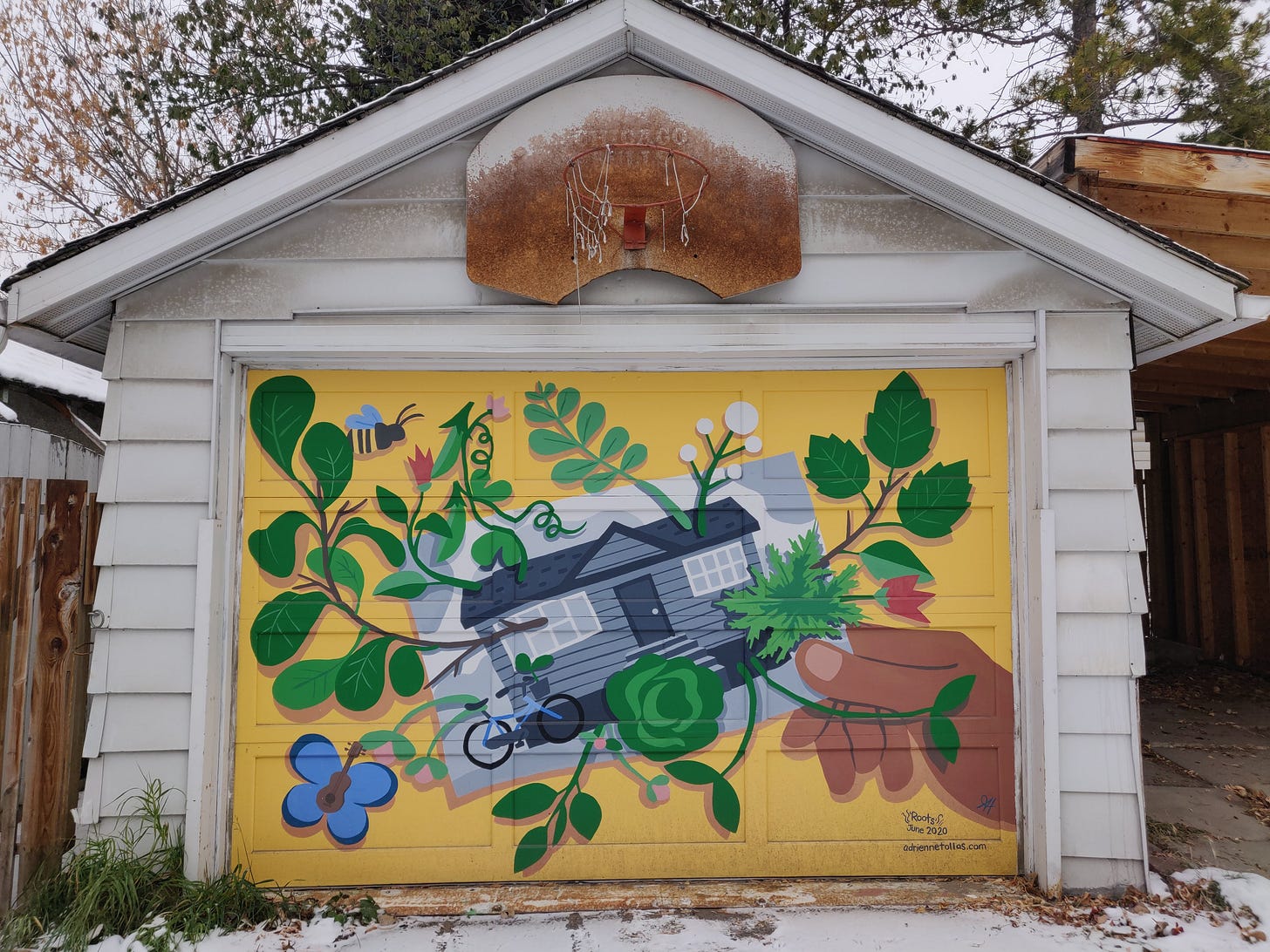 Roots by Adrienne Tollas
Mah, who rents the house, wanted to paint the garage as a way to contribute to his community. An unexpected benefit, he says, is the mural sparks conversation with neighbours and other passersby.
"A mural is one of the easiest ways to brighten up the space around your community," he says. "I'm surprised more people don't do it."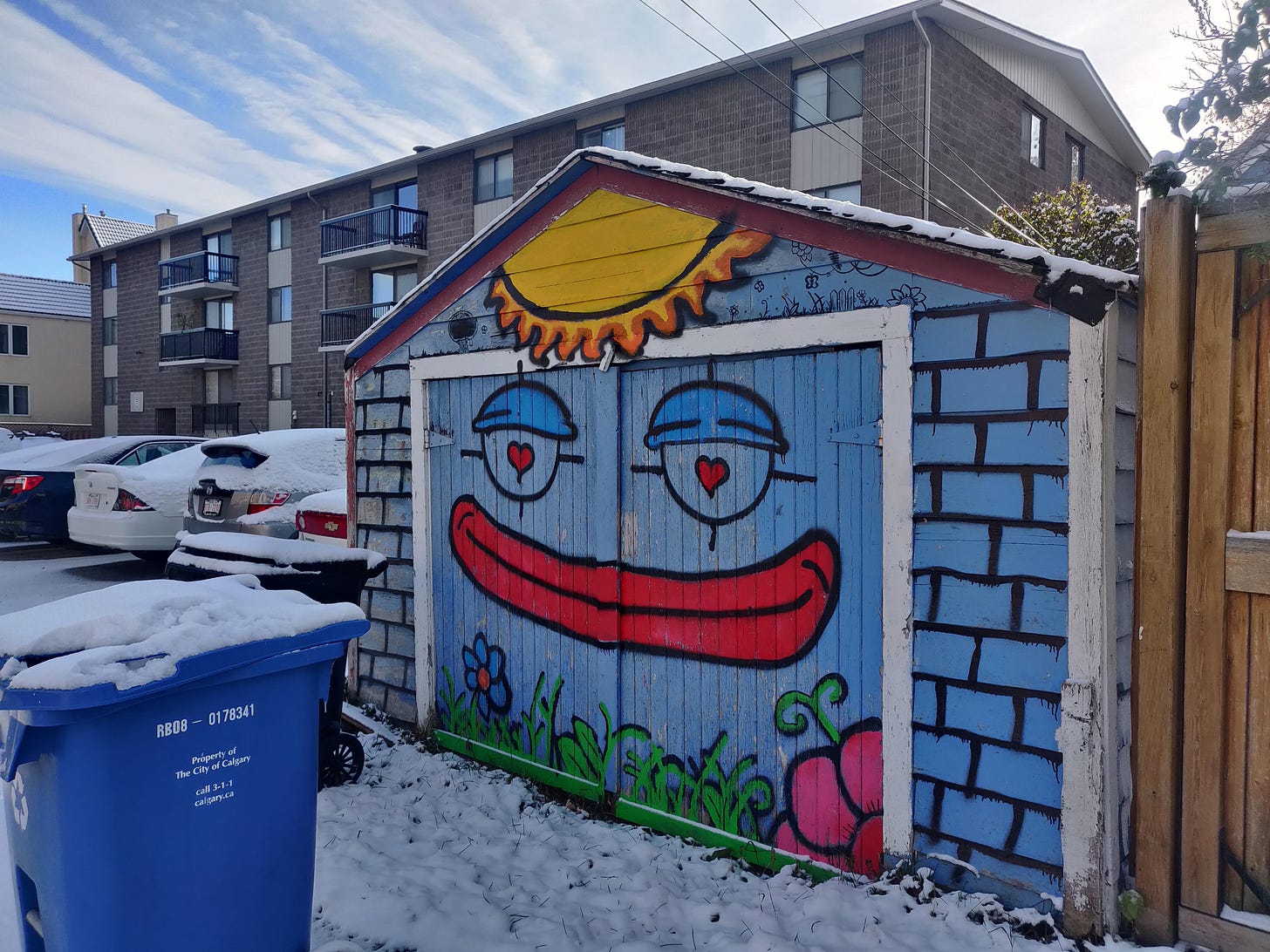 Happy Garage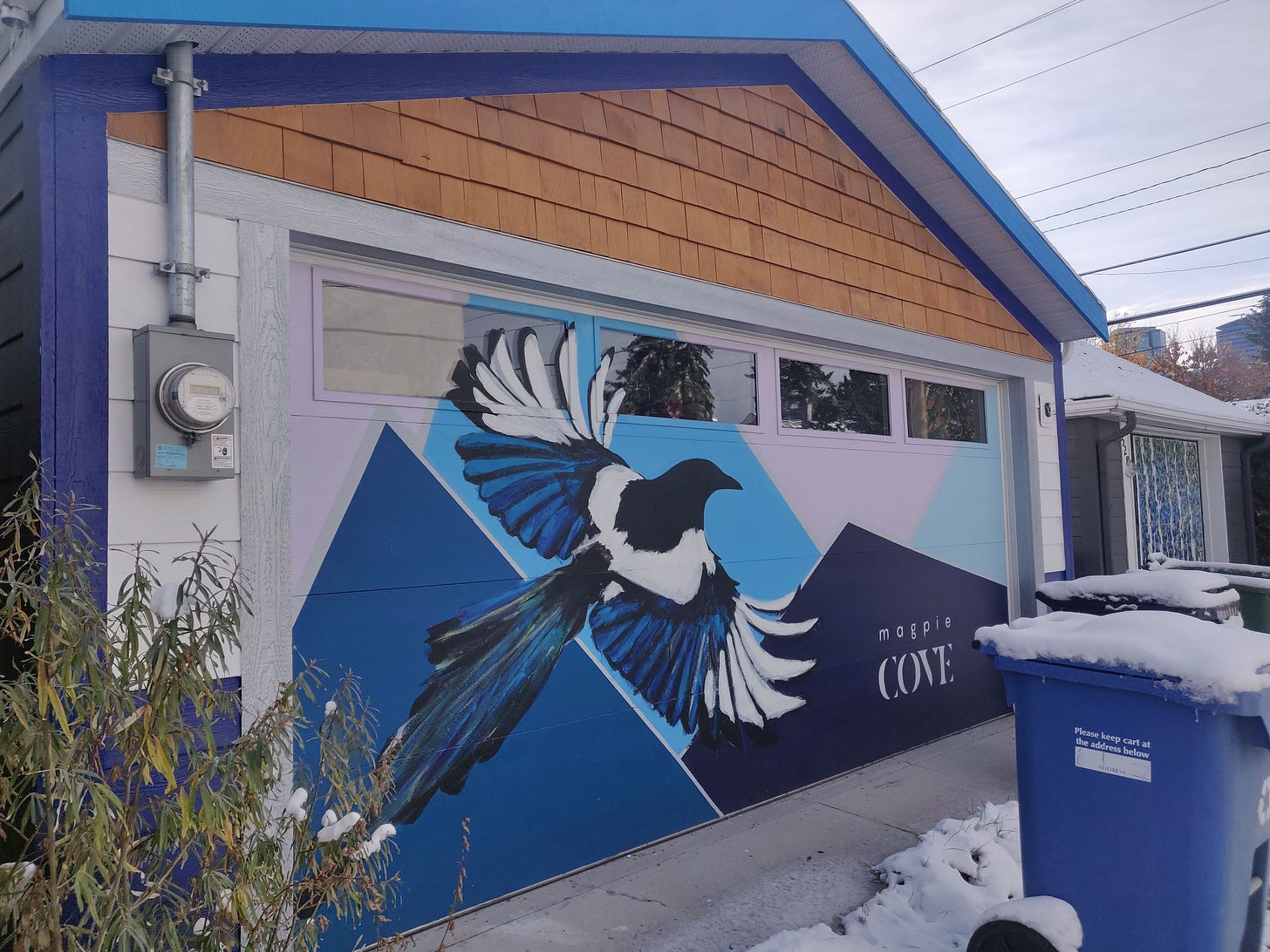 Magpie Cove by Leya Russell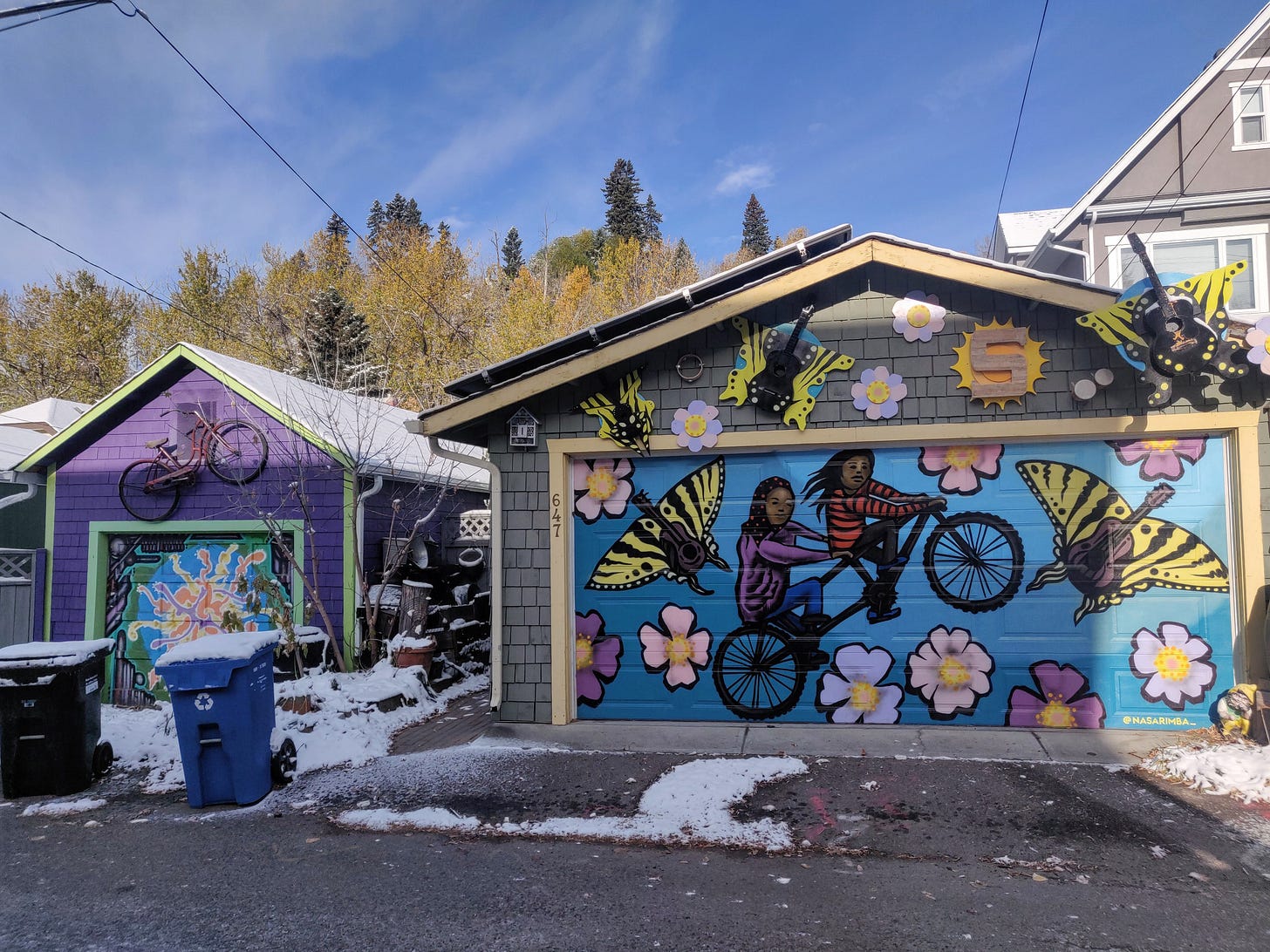 Onion Head and Ancient Ray. Nasarimba For Neighbour Day 2020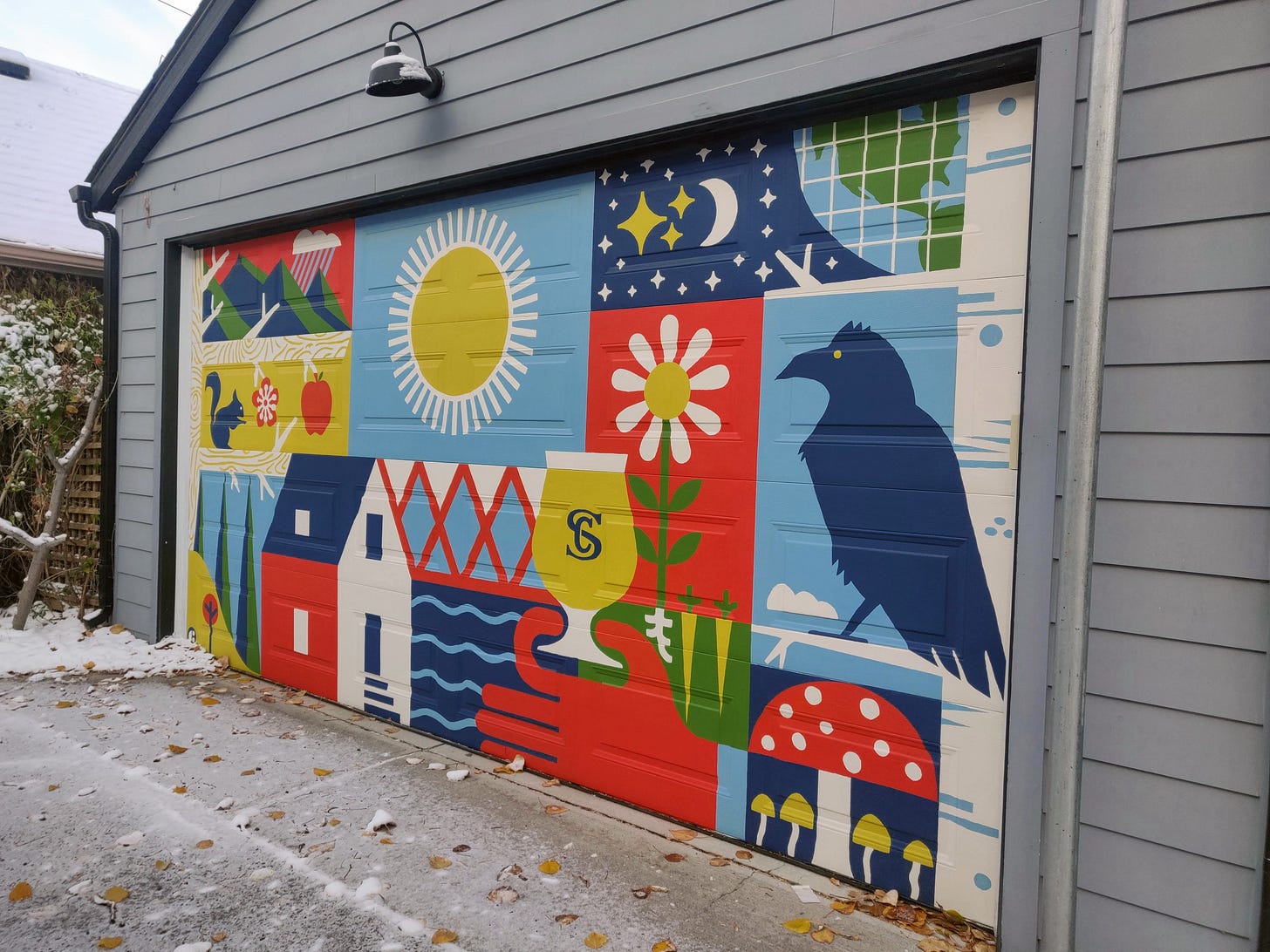 Sunny Cider by Joshua Clarke
---
Welcome to all our new subscribers! We look forward to sharing ideas, advice and stories about going outside with you. If you're not yet a subscriber, just hit that green button below to receive our newsletter in your inbox every Tuesday.