Cross-Country Ski Season is Here!
Enjoy unusually good ski conditions for this time of year
We dusted off our cross-country skis and got outside recently, and can both confirm, it's glorious out.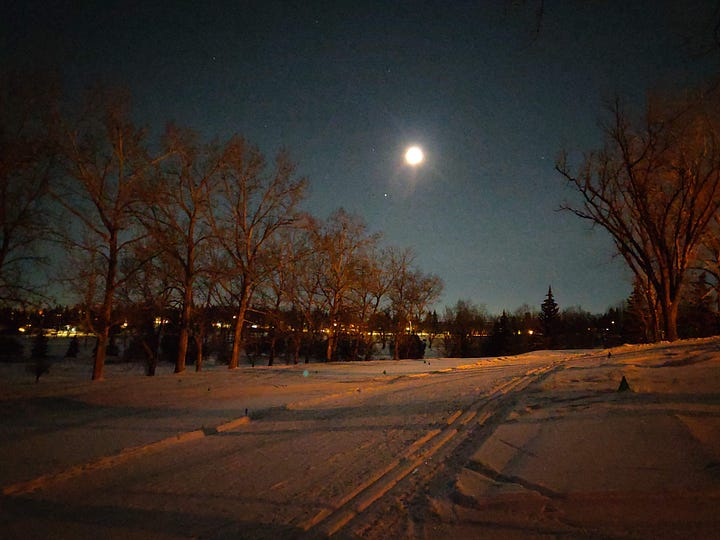 Cailynn enjoyed a moonlit ski at Confederation Park Golf Course in Calgary Thursday night, while Annalise hit the trails at West Bragg Creek on Sunday.
Both locations were track set, with unusually good snow coverage and conditions for mid-November. Usually at this time of year you have to head farther into the mountains to find enough snow to glide.
Cailynn hemmed and hawed on if a night ski was the right way to get back into skiing after more than six months away, while Annalise hemmed and hawed over going considering how busy Bragg Creek can be on a mild weekend. But in the end, we both had amazing times, confirming that instead of hesitating, we should follow our own advice: Always go outside while the going is good!
Another thing we love about the ski areas at Confederation Park and West Bragg Creek is that they're both free, though donations are strongly encouraged. Donate to the Confederation Park ski trails via Foothills Nordic and West Bragg via The Bragg Creek Trails Association, and note you can also volunteer for both organizations. Huge thanks to all the people who keep these trails open and accessible all winter long.
For current trail conditions, head here for Confederation Park and here for West Bragg (scroll down).
And, of course, there are plenty of other places to x-country ski this winter. You can find trip reports for trails in and near Calgary on the Skier Roger website and in the private Cross Country Skiing YYC Facebook group. We also like Park Canada's where to go section covering the Banff and Lake Louise area, and let's not forget about guidebooks, like the great Ski Trails in the Canadian Rockies.
Not yet a cross-country skier? Give it a try this winter! Here's a list of ski clubs and organizations that offer lessons. As the University of Calgary Outdoor Centre promises, you'll look forward to winter again.
Finally, speaking of ski season, downhill ski season is also here! Cailynn and her family were at Nakiska on Sunday for the resort's first preview weekend. Only the upper mountain was open, meaning a ride down the chairlift was necessary. Still, it was great to get in the first few turns of the season, including someone's first few turns ever.